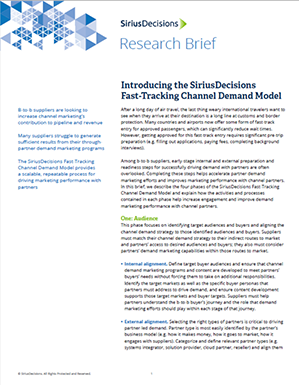 Access this complimentary SiriusDecisions research brief to discover how to accelerate partner demand marketing.
Privacy mode may affect your ability to download content, so we recommend standard browser settings.
"Channel marketers do not lack lead generation programs […] What they often lack is a definitive strategy and framework to drive successful adoption of demand marketing efforts by partners" *
The brief describes the four phases of the SiriusDecisions Fast-Tracking Channel Demand Model and explains how the activities and processes contained in each phase help increase engagement and improve demand marketing performance with channel partners.
* Introducing the SiriusDecisions Fast-Tracking Channel Demand Model