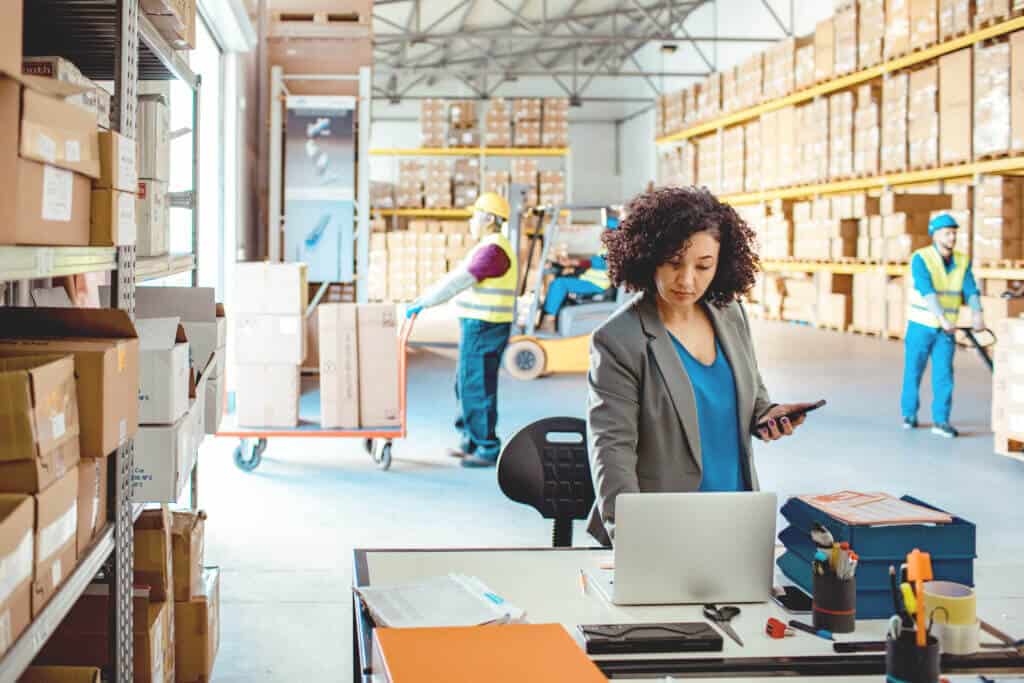 While deep in thought about the article I just read on WSJ Online about the anticipated surge of inbound shipments finally arriving from Asia and expecting to flood North American ports with chaos, I hear an oddly familiar female voice in the living room asking me a question.  
"You have an item in your Amazon cart. Would you like to complete the purchase of the bird feeder, squirrel proof, now? Simply say, yes, I want to purchase." I immediately respond, "No, Alexa. I don't want to buy the bird feeder, I just wanted to save it to show a friend who was asking about squirrel-proof bird feeders. Can't I just put something in the cart without you bugging me?" (Why am I engaged in full, logical discussion with a device?) 
Oh, boy. Things are out of hand.
While I remember writing about the e-commerce explosion at least ten years ago, nobody would foretell the dramatic shift of virtually all sales transactions (B2C and B2) due to the Covid-19 pandemic. The government recently disclosed that America's e-commerce boom during the pandemic was even bigger than previously believed. In 2020, worldwide sales through e-commerce sales channels such as websites and online marketplaces increased by 43% overall.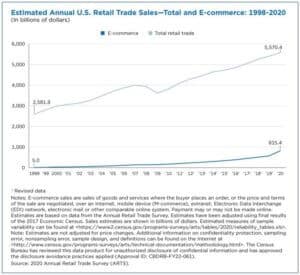 The rapid onslaught of the Covid-19 pandemic left some companies unprepared, requiring quick modifications to supply chain strategies in response. Many organizations urgently changed their supply chain operations—such as re-writing or introducing new business rules, onboarding a new carrier, reducing or increasing order quantities, etc. Other organizations implemented cost reduction or risk mitigation measures until clarity concerning the longevity of the situation was better defined. According to the US Trade Representative (USTR), retail consumer goods e-commerce sales, "had an 18% share of the total global retail sales for 2020 and is forecast to have over a 1% annual growth rate, achieving a nearly 22% share of total global retail sales by 2024." Similarly, B2B marketplaces' sales increased 131% to $56.5 billion in 2021. And they're projected to increase at a similar pace to $130 billion in 2022, according to data and analysis in the B2B Marketplace 400 research report from Digital Commerce 360. 
Preparing for the next big push – crunch time!
Retailers and shippers relying on last-mile parcel to maintain cash flow need to have access to a diverse carrier and service mix. With these capabilities, they can fill their orders without capacity concerns, offer and utilize a range of last-mile services (like same-day and two-day) and reduce shipping costs.  
A platform-enabled parcel shipping technology – connected to inventory visibility, demand forecasting, global trade compliance, and advanced fulfillment capabilities – gives retailers greater options to react to these changes, empowering them to support e-commerce and active stores by quickly initiating: 
Ship-to-store from distribution centers or other stores

Ship-from-store to support rising e-commerce sales 

Online order pickup either in stores or curbside 
Leveraging an end-to-end supply chain platform to support B2C and B2B e-commerce operations provides the capabilities to make agile adjustments. Retailers and other businesses can respond nimbly in a crisis and use machine learning to make informed strategies when they encounter the next supply chain disruption. 
What are your options?
As we are on the brink of peak season, it is obvious that capacity constraints will be a concern for shippers of all types, but you do have alternatives for proactively handling them.  
Multi-carrier shipping software can simplify and streamline many of the above critical strategies for navigating capacity constraints. An elite parcel shipping software that can ship an incredible package volume (without downtime) will simplify and expedite carrier onboarding to add key carriers and service options to your portfolio. This vital software will also enable the use of zone skipping by applying automated business logic to select the most efficient carrier hub, include the cost into the total delivery cost, and finally produce the required paperwork, including the right shipping labels. 
Shippers in the market for a parcel solution don't have to choose between the right software for today or the best product for three to five years. With e2open Global Parcel, it's possible to have it all: the solution you need to solve your immediate needs and the one that can deliver additional benefits down the road.  
Download our Transportation Management Data Sheet to Learn More.