Employee Spotlight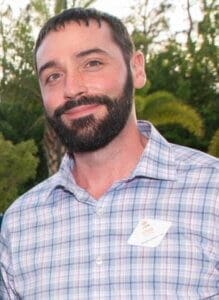 E2open is powered by a strong global network of problem solvers and innovators driven by strong values and our company culture. Together, we are focused on doing what's right in business and in our communities. Every month, we will shine a spotlight on an exceptional team member who is helping us transform the supply chain industry. This month, we held a Q&A with Chad Toupin, Managing Director, Rail at e2open.  
Q: How long have you been working for e2open?
A: 15 years through the BluJay acquisition. Formerly with Raven Logistics. 
Q:
Describe a typical day for you at e2open. 
A: Meeting with customers, carrier partners, and our leadership team in the LaaS organization to ensure the success and growth of our business unit. A heavy focus has been on building up the rail organization using the model of the greater LaaS team to enable us to scale the business.  
Q:
What is one professional skill you are currently working on?
A: Delegation of workload and process documentation. 
Q:
  Of all the e2open core values, do you feel there is one that stands out from the rest and why?
A: While I firmly agree with all of them, I'd lean towards building relationships on trust and respect. I am a firm believer that if you are honest and trustworthy, you will gain trust and respect. These are critical elements when it comes to doing good business and good work and this would extend to both internal relationships and customers facing engagements. If you don't have the trust and respect of your colleagues, the customer will recognize it.  
Q:
What hashtags would describe your personality the best
?
A: I don't think I've ever used a hashtag in my life, but I'd lean towards #charismatic, #conscientious, or #thoughtful.  
Q:
What are three words would you use to describe e2open to a non-employee and why?
A:  Innovative, Dynamic, and Problem Solver.  
Coming from a small yet efficient private company focused solely on rail solutions, I have always wanted the experience of delivering supply chain solutions at a high level in an expanded role. Even though my job is still very much focused on rail, I learn about new capabilities and supply chain solutions we offer every week, and it makes me very optimistic for the future success of e2open and our customers.
Q:

What's

your favorite way to unwind after a long day?

 

 
A: A cold IPA on the pontoon boat with my wife and kids.  
Q:

If you had to compete in the Olympics, what sport/event would you choose and why?

 

 
A: Archery because my days of peak physical performance are getting further in the rearview mirror. I'm also a decent shot currently, and I find archery both relaxing and rewarding.  
Q:

If you could have dinner with anyone (dead or alive) who would you

choose.

 

 
A: Alive: Steve Yzerman  
Dead: My mother-in-law who passed away long before I met my wife.  
Q:

What is one thing you

can't

live without?

 
A:  My family et children.  
E2open is a purpose-driven, people-powered company that values diversity, equity, and inclusion. We are always on the lookout for creative problem solvers, so if you are interested in joining an innovative technology company, we encourage you to check out our careers page to see if e2open is the right fit for you.