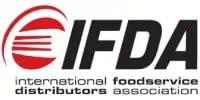 IFDA Distribution Solutions Conference
September 14-16, 2022  |  Tampa, FL
IFDA is pulling out all the stops for this year's DSC. You'll meet the industry's top vendors in our expanded exhibit hall, learn from world-class speakers covering today's hottest topics, explore cutting-edge technology solutions, and enjoy new ways to connect face-to-face with colleagues and customers.
Collaboration eases the logistics pain for Performance Food Group (PFG) 
Rapid swings in freight rates and carrier capacity keeps logistics analysts on their toes. Global and local events over the last few years have knocked the system out of balance. We might be finally entering a new normal, or the next global disruption is right around the corner. The unpredictable market and an increasing focus on emissions, call for rolling logistics planning and re-planning to keep goods moving and not leave money on the table.
PFG navigates the turmoil more effectively by collaborating with their suppliers, customers, brokers, and carriers while executing much of their freight management business on a single platform from e2open. Join e2open and Andy Long, VP Supply Chain Management at Performance Food Group as they discuss the benefits of working together and where he sees the market heading.
In this session we'll discuss:
Benefits of collaborating with all partners through a connected platform
How to optimize freight spend through collaboration with your logistics partners
How to bring emissions into the optimization equation with cost and service
Andy Long
Vice President of Supply Chain Management
Performance Food Group
Mike Hitmar
Director, Product Marketing
e2open