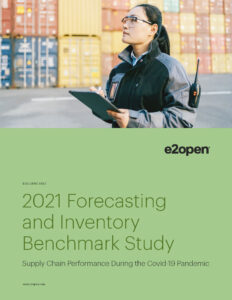 In 2020, everything changed. To understand the pandemic's effect on business and supply chain performance, read the most comprehensive study of its kind. The report encompasses more than $200 billion in annual sales and spans multiple industries.
Privacy mode may affect your ability to download content, so we recommend standard browser settings.
The year 2020 was unlike any other, precipitating perhaps the broadest and most sustained business disruption in modern history. Day-to-day operations changed dramatically—sometimes overnight—as supply chains retooled to meet unpredictable demand while grappling with shortages, delays and precautions regarding personnel safety. 
The 2021 Forecasting and Inventory Benchmark Study captures the state of supply chain performance during the Covid-19 pandemic, providing a fact-based assessment of the business impacts. Using this baseline, leaders can evaluate the performance of their organizations and consider successful strategies that some of the world's largest manufacturers have adopted to build resilience for disruptions of any scope and scale—even a pandemic. 
Contact E2open to learn how to become more resilient and better manage future disruptions of any size.