Employee Spotlight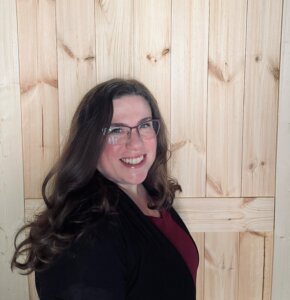 E2open is powered by a strong global network of problem solvers and innovators who are driven by strong values and our company culture. Together, we are focused on doing what's right in business, and in our communities. Every month, we will shine a spotlight on an exceptional team member who is helping us transform the supply chain industry. This month, we held a Q&A with Katie Koster, Human Resources Business Partner at e2open.  
Q: How long have you been part of the e2open team?
A: Six years in June! 
Q:
Where are you based (city, country)?
A: Holland, Michigan.
Q:
What was your first job?
A: Courtesy Clerk at my local supermarket.
Q:
What do you like the most about the culture at e2open? What do you think makes it unique?
A: Our philosophy is, "To learn and operate with intensity." Our culture grows collectively every day through the contributions of the awesome people that call e2open their organization. I am surrounded by people that make that Operating Principle tangible by how they work with others. This team is bright & encouraging, they are the get–it–done–right–type, and they believe in making an impact. I love the fact that so many experts here are willing to share their knowledge and experiences, making it easy to learn, feel valued, and grow! 
Q:
What are you most proud of in your career so far?
A: Where I have been able to help others in their careers. There is really nothing more special to me than the genuine heartfelt "thank yous" from those who I have worked with that have thanked me for career support, mentorship, and advice. 
Q:
What three words would you use to describe e2open?
A: Moving as One!!!  
Q:
What hashtags would describe your personality the best?
A: #realistic, #optimistic, and #iusesmileemojisoften  
Q:
If you could give career advice to your younger self, what would it be?
A: Demonstrate courage. Envision and see your opportunities and work towards them. Don't be afraid to share what you want to accomplish, how you want to accomplish it, and when. And understand that an unexpected twist or turn in that road was meant to be (sometimes that is where you learn the most along the way). 
Q:
What is your one guilty pleasure?
A: Nutella as a dip! I didn't even realize how awesome it was until I bought some for my kids in the last couple of years. 
Q:
Do you have any kids or pets? If so, what are their names?
A: All my kiddos: Zoey (13-year-old hound mix), Landon (the turtle), and my two elementary school kids. 
Q:
What is one thing you cannot live without?
A: Guacamole! 
Q:
What are your hobbies?
A:  Hiking, camping – generally hanging with my crew mentioned above. I do like to take the turtle outside for hikes as well. (Kidding, but I really do have the turtle frolic in the grass outside while the tank is being cleaned.) I also like DIY décor and home projects. I would not call myself skilled or handy, but I am all for any frugal approach to making things unique. For example, I turned a stock tank into a pool in my backyard oasis for my kiddos, and I also painted the ceiling in my basement to have that industrial look without having to install a true ceiling. 
Q:
What is your favorite thing about the city/town in which you currently live?
A: Lake Michigan! I love being so close to the lake and hiking areas! 
Q:
What is your favorite way to unwind after a long day?
A: Hang out by the fire! There is nothing better than relaxing with my family listening to some great music and staying warm by the fire! Cheers! 
E2open is a purpose-driven, people-powered company that values diversity, equity, and inclusion. We are always on the lookout for creative problem solvers, so if you are interested in joining an innovative technology company, we encourage you to check out our careers page to see if e2open is the right fit for you.