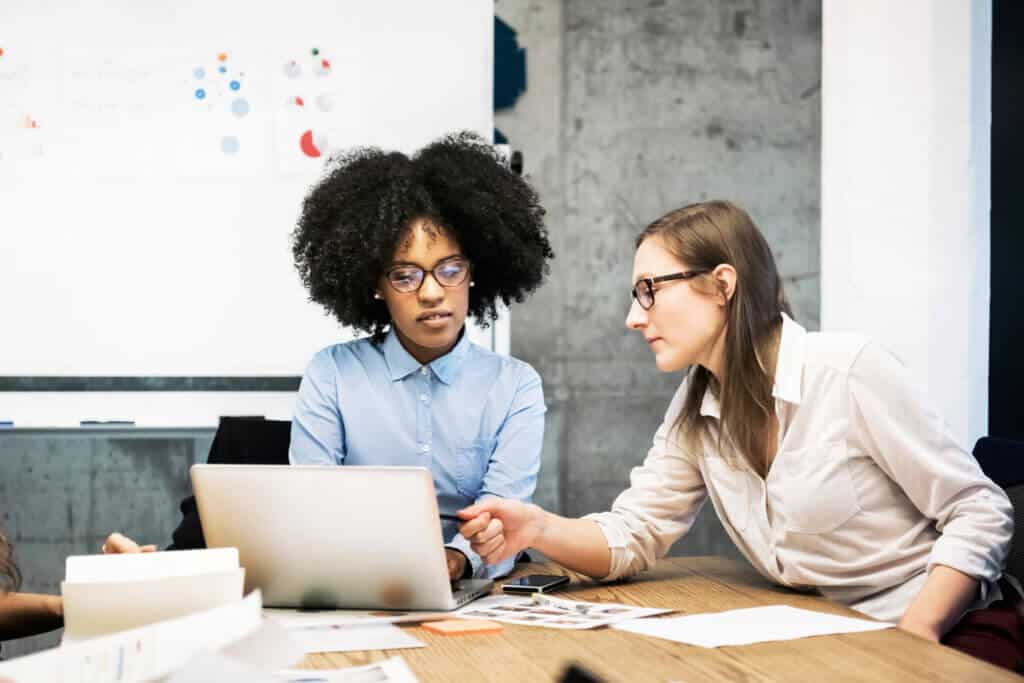 "Male-dominated industry" is a term we've heard for far too long, used to describe far too many businesses. While it seems like we as a global culture have made progress on this front, there is still a long way to go toward achieving our goal of true equality and inclusivity.  
Here at e2open, we are proud to say that we have no shortage of women leaders among our ranks. Of the 11 members of our current executive leadership team, almost half (five) identify as female. This is a 25% increase in the past year. For a global industry as complex and widespread as ours, this is not about achieving a predetermined quota – it's about ensuring the brightest minds are in the room to guide our company into the future. 
In this Q&A, we asked the female members of the e2open executive leadership team for some insights into how they work, how they can inspire other women, and what got them to where they are today.  
Featured today are Lynn Holmgren, EVP, Chief Administrative Officer and Chief of Customer Operations; Marje Armstrong, Chief Financial Officer; Kari Janavitz, EVP & Chief Marketing Officer; Laura Fese, EVP, General Counsel & Secretary; and Joy Meier, EVP, Human Resources & Training. 
Q: Tell us about how you got here. What was the road you took to get where you are today with e2open?
Lynn Holmgren, EVP, Chief Administrative Officer and Chief of Customer Operations 
I started my career in the military, which at the time was almost predominantly male. I came on board because at the time they were trying to diversify. The advantage of starting out in the military was getting a lot of responsibility thrown at me immediately. That taught me to think on my feet, problem-solve quickly, and be resilient. To this day, those are the qualities I look for in a potential leader.   
After I left the military, I went to a Fortune 500 company and was offered all the jobs nobody wanted. I was asked to run the call centers, so I used my learnings as a marketing major to rebrand them and make them customer centric. When I eventually left that role, I had grown the scope and profile of that position to the point where people were suddenly clamoring for the "job that nobody wanted." Since then, I've realized that my niche was customer experience.  
Marje Armstrong, Chief Financial Officer 
I got my start on Wall Street, which was also a very male-dominated culture. There are so many more opportunities today for women to grow into leadership roles. At the beginning of my career, it was sort of understood that there was only one seat at the table for a "token" woman. It made women inherently more competitive with each other. What's fundamentally changed since then is that there are more seats available to us now and women can and are expected to help each other to rise to the top. 
Kari Janavitz, EVP & Chief Marketing Officer 
I'm in marketing, and this industry has traditionally had a decent number of women in it, but I've also worked in industries where that has not been the case. I think it's important to remember that sometimes roles or organizations just aren't going to be the right fit. If you think of a career as having intention with it, know that it's going to be a winding path and not a straight line. You'll make different choices in your life that suit what you're looking for and what you need at the time.  
In my opinion, there are two big challenges for aspiring female executives. The first challenge is the confidence gap. Sometimes you can psyche yourself out by thinking through all the different choices of things that you might want to juggle and pursue in your life, and you end up talking yourself out of something that you want or deserve. The second thing – and there's no way around this, male or female – but you've got to do the work. You must show up and work hard.  
Laura Fese, former EVP, General Counsel & Secretary (retired and currently serving in an advisory role) 
I used to be a government attorney for eight years, and I was presented with an opportunity to go into the corporate world in a completely different town where I didn't know anybody. I was hesitant at first, but after giving it some thought, I figured, "What the heck, I'll try it for a year and see how it goes." One year turned into four, and that led to the next opportunity and the next, and that led me to e2open. If I hadn't taken that risk all those years back, I would be on a different path. Maybe it wouldn't have been the wrong path, necessarily, but the path I'm on now is the one I ultimately wanted, and the one that has fulfilled what I want from my career.  
Joy Meier, EVP, Human Resources & Training 
When I started my career, the prevailing wisdom was that you had to have your whole path mapped out. Looking back now, I'm of the opinion that you don't want to prescribe it too much. I think you need to be open to taking different opportunities and figuring out where you fit best. Your career trajectory may zig and zag a little because of that, but that's okay because those twists and turns help us grow and figure out where we're the best fit.  
There's also a lot to be said for feeling comfortable in your role and owning your right to be there. Back in the '70s and '80s when more women were entering the workforce, many of them were wearing suits in the boardroom, trying to fit in among the men. It's not like that today. Women and their perspectives are appreciated and celebrated, and in many cases, even sought after. So even if you are the only woman at the table, it's important to just act like yourself.  
Q: What advice would you give to a woman who is looking to advance her career and achieve your level of success? 
Lynn Holmgren, EVP, Chief Administrative Officer and Chief of Customer Operations 
When it comes to careers, you have to realize that you're going to have some setbacks. You will have jobs that aren't a very good fit, and you may take some knocks along the way. You have to pick yourself up, dust yourself off, and get back in the game quickly.  
It's not about failing. You will absolutely fail. We all do. It's about how quickly you recover, learn from your mistakes, and keep working to find your path.  
Marje Armstrong, Chief Financial Officer 
My dad taught me my first guiding principle – no matter what you do, give it your all and strive to be the best. Be intellectually curious, ask questions, assume positive intent from others, and separate emotion from a rational decision-making process. Only you can make your job interesting and intellectually challenging; it all starts in your head. 
The second principle that I learned early in my career is to learn how to make decisions with the best information available quickly and move on. You cannot always second guess yourself and assume that perfect decisions can be made with more time or more information – progress over perfection. While it is good to do retros and look back at what could have been done better, continuously overthinking decisions can affect your confidence and be detrimental to your goals. Learn to trust your instincts and have confidence in your insights and contributions, and the rest will start to come together.   
Kari Janavitz, EVP & Chief Marketing Officer  
I think it's always good to have advisors and mentors, no matter where you are in your career. I personally have a network of female executives outside of the company whom I call when I need a fresh perspective. I've heard someone describe it as having a personal board of directors. I rely on my "board" for advice on personal and professional decisions.  
Another thing to consider is that people can't read your mind. Always state where you want to be or where you want to go. It's scary to say it out loud because sometimes we don't allow ourselves to dream as big as we should. If you don't say it, other people aren't going to recognize what you're trying to do. The people around you need to know where your end goal is.  
Laura Fese, EVP, General Counsel & Secretary (retired and currently serving in an advisory role) 
Unfortunately, as women, we can all have a bit of imposter syndrome. My mother gave me the best advice on the first day of my new job out of college. "Pretend you know what you're doing, and everyone will believe it, and you'll learn along the way." While that may sound scary, you must remember CEOs and CMOs aren't born, they're made. Nobody who gets a big promotion walks into that role fully confident and knowing exactly what they're doing. You learn and grow into those bigger roles, and you figure it out as you go, regardless of your gender.   
What's different today than when I started my career is the number of resources available to us. Nowadays, there are so many organizations and groups that can provide women with support, encouragement, and guidance, which is something we didn't have twenty years ago.  
Joy Meier, EVP, Human Resources & Training 
When you do decide to state your career intentions, be mindful of how your managers or leaders react to that conversation. Are they supportive, or do you get the impression they're not fully behind you? Obviously, you want to be around people who will support you.  
There can be an opportunity cost to staying at one place too long if that organization has shown you that there's no path for you to get where you want to be. Sometimes you have to read the room – are there other women in leadership positions at that company? Or maybe for whatever reason, your manager has their own biases and isn't supportive of your goals. Make sure you are surrounded by people who support your own personal vision for yourself. 
About the WIN network
At e2open, we believe each team member contributes to our success in creating an inclusive culture. Employee groups such as WIN provide opportunities for professional development and involvement. Through WIN, our employees can connect with mentors, develop the necessary skills for advancement, and become part of a support structure that ensures everyone has the resources they need to improve and succeed. 
If you're interested in joining the e2open team, we encourage you to look at the job postings on our careers page.