Intern Success Story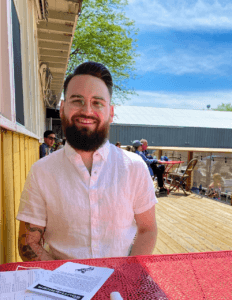 As an organization, we always have an eye on the future and all the possibilities it holds. The e2open internship program focuses on finding, training, and developing the next generation of promising students and graduates interested in our industry. During their time with e2open, we hope that they will not only learn from us but also contribute to our growth and success. With that in mind, we would like to introduce Alan Pyrett, QA Manager, Managed Analytical Services, who started his career as an intern at e2open. You can learn more about Alan's success story below. 
Q: What is it like to work at e2open?
A: I'm proud to say that I work at e2open. When I began my career here, I was filled with excitement because the people here showed me that they wanted to see me succeed. My peers pushed me, and leadership provided me the path that I needed to see to push my career forward. Being a technology company, we are always looking to push the needle forwards, and we look to support one another in a collaborative format. It's a space that encourages creativity, thinking differently and reinforcing its people. I love my job, and now I'm happy to reinvest in others the way that I was supported when I first joined the organization.
Q: Describe e2open in three words.
A: Innovative, customer-focused, and synergetic
Q: How did you get started in the supply chain industry?
A: I went to school for Supply Chain Management and Finance. I met one of my mentors while I was working at Best Buy, and he was working at BluJay Solutions at the time. He and I had a great conversation and stayed connected over time. He supported me to get my internship here. He's still one of my mentors 5-years later.
Q: What do you like the most about the culture at e2open? What do you think makes it unique?
A: What I like the most about our culture is the focus on a non-micromanagement managing style. That and we embrace diversity and celebrate the uniqueness in people. I feel comfortable being myself here, and that means a lot to me.
Q: How have you advanced professionally since joining e2open?
A: I've held a total of five positions since I began working here five years ago. I began as a Logistics Coordinator Intern. I was promoted to Logistics Coordinator for a short period because I was interested in the Logistics Analyst position. I was a Logistics Analyst for a little over a year, then was promoted to a Data Analyst role to support internal dashboard analytics creation. Then I was selected to support the transition of the Logistics Analyst group management structure shift and was promoted to a QA Manager of the Managed Analytical Services.
Q: What are you most proud of in your career so far?
A: I'm most proud of the work that I've put in to revamp our training and development process for the Logistics as a Service department. I introduced a training and development plan process for the Logistics Analyst position, and since then, we have expanded the Development Plan to the Logistics Manager, Logistics Supervisor, and Carrier Specialist roles.
Q: What is your definition of success?
Being happy and supportive.
E2open is a talent-driven company, and we know that upcoming generations will build upon our work and help us to shape the transformation of the supply chain.
We are excited that Alan was able to transition from an intern to a full-time employee
and is now part of our community of innovators and problem solvers. If you are interested in an internship or applying for a full-time position with e2open, visit our careers page!