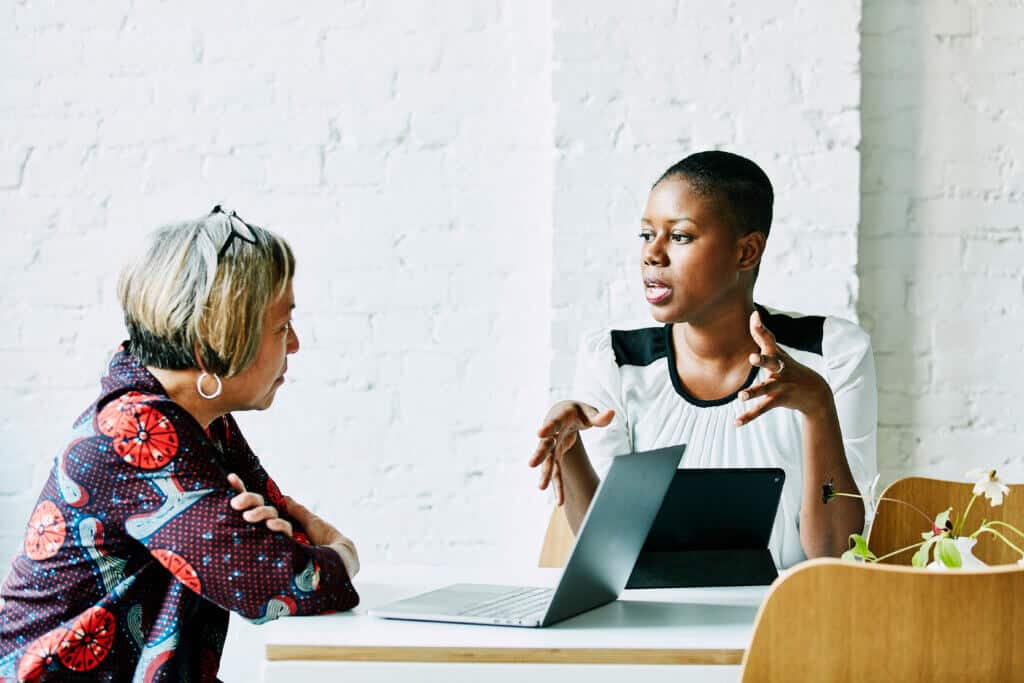 A Google search for the term "subscription" produces about 6.51 billion results. By comparison, a search for "ERP" yields 448 million results, and a search for "supply chain" returns 1.16 billion results. The point is – the subscription business model continues to be popular. 
But how did we get here? 
The journey to the digital subscription business model
You may think the commercial subscription model is a modern concept, but the truth is that subscriptions actually date back to the 15th century! Check out the diagram below to explore occurrences of subscriptions over the centuries.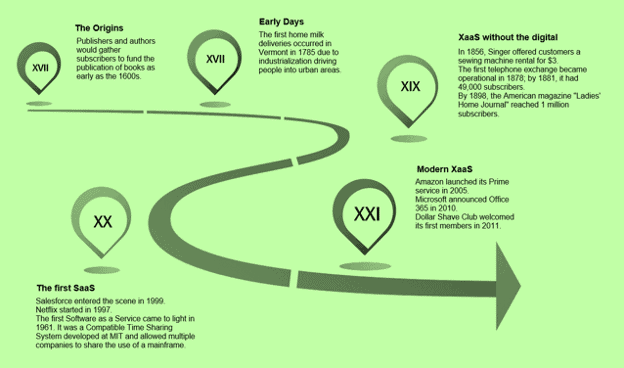 The graphic above is intriguing; however, the history of the modern subscription business model is much shorter. It begins at the end of the 20th century and is inexorably tied to modern computing—and every milestone in its development results from technological advancement.  
The mid-1990s: Internet and e-commerce beginnings
The first online sale of a Sting CD in 1994 and the introduction of the secure sockets layer (SSL) protocol in the same year allowed people to shop online with the confidence their data was safe. Amazon.com was also established in the same year and started with a focus on selling books and CDs but soon evolved into a comprehensive e-commerce platform. This early development paved the way for businesses to explore new revenue models, including subscription-based services, in the digital realm. 
The early 2000s and the rise of digital content subscriptions
The early 2000s witnessed the rise of digital content subscription models. Platforms like Rhapsody and Netflix's DVD rental service introduced consumers to music and movies via subscription. It wasn't long before Netflix transitioned from DVDs to streaming in 2007, reshaping the entertainment landscape and showcasing the potential of subscription-based content delivery.  
The mid-2000s: Cloud computing and SaaS
The mid-2000s marked a significant shift with the advent of cloud computing and the introduction of software-as-a-service (SaaS). Salesforce emerged as a trailblazer, offering cloud-based solutions that transformed how businesses accessed and utilized software.  
Late 2000s: Subscription marketplaces
Apple's introduction of the App Store in 2008 was a game-changer for software distribution and subscription models. This digital marketplace enabled developers to offer subscription-based apps and services, providing consumers access to various content on their mobile devices. Spotify capitalized on this opportunity, launching its music streaming service on the App Store and popularizing subscription-based access to music.  
Early 2010s: Data analytics and personalization
The 2010s witnessed the convergence of data analytics and personalization, reshaping subscription models to focus on tailored experiences. Businesses started using advanced analytics to track user behavior and preferences, allowing them to offer personalized subscription offerings. For instance, Netflix's recommendation algorithm harnessed user data to suggest content, elevating the subscriber experience to new heights.  
IoT and smart devices
The proliferation of Internet of Things (IoT) devices marked another turning point for subscription models. These intelligent devices paved the way for subscription-based services tied to IoT products. Nest introduced subscription plans for its home products, offering advanced features and cloud storage for connected devices. This trend signaled the fusion of technology and subscription offerings in the smart-living domain.  
Mid – 2010s: Blockchain
The emergence of blockchain technology in 2015 introduced a new dimension to secure and transparent transactions. While still in its early stages, blockchain had the potential to reshape subscription models by providing decentralized and secure methods for transactions and access control. During this era, the Brave web browser introduced the Basic Attention Token (BAT), which aimed to revolutionize online advertising and subscription revenue by rewarding users for their engagement. 
Streaming revolution
The streaming revolution gained momentum, becoming integral to content consumption across various mediums. Streaming technology propelled the growth of subscription-based streaming services, redefining how consumers accessed entertainment. Notable examples include the launch of Disney+ in 2019, offering a vast library of Disney content to subscribers globally. 
Early 2020s: AI and machine learning
The 2020s ushered in an era of AI and machine learning integration into subscription models. These technologies empowered businesses to offer predictive analytics and personalized experiences. Spotify's Discover Weekly playlist, driven by AI, exemplified how one could leverage user preferences to enhance engagement, underscoring the symbiotic relationship between technology and subscription offerings.  
The pandemic accelerates e-commerce
The Covid-19 pandemic accelerated trends, propelling the shift to e-commerce and online subscription models. Lockdowns and restrictions prompted more consumers to shop online, creating a surge in demand for subscription-based services. Subscription meal kit services like Blue Apron experienced heightened interest during the pandemic, demonstrating the resilience and adaptability of subscription revenue models in the face of global challenges.  
These key dates and examples highlight the pivotal role of technological milestones in shaping the evolution of subscription revenue models, transforming industries, and reshaping consumer experiences. 
Present – The current state of the subscription market
Over the past decade, subscription businesses grew 4.6 times faster than the S&P 500, according to the Zuora Subscription Economy Index, to reach a state where they command a market capitalization of $14 trillion. It's no wonder that most companies plan to add some form of subscription offering to their portfolio. 
The chart below, based on data from UBS, highlights some of the broad verticals where subscriptions are most popular today: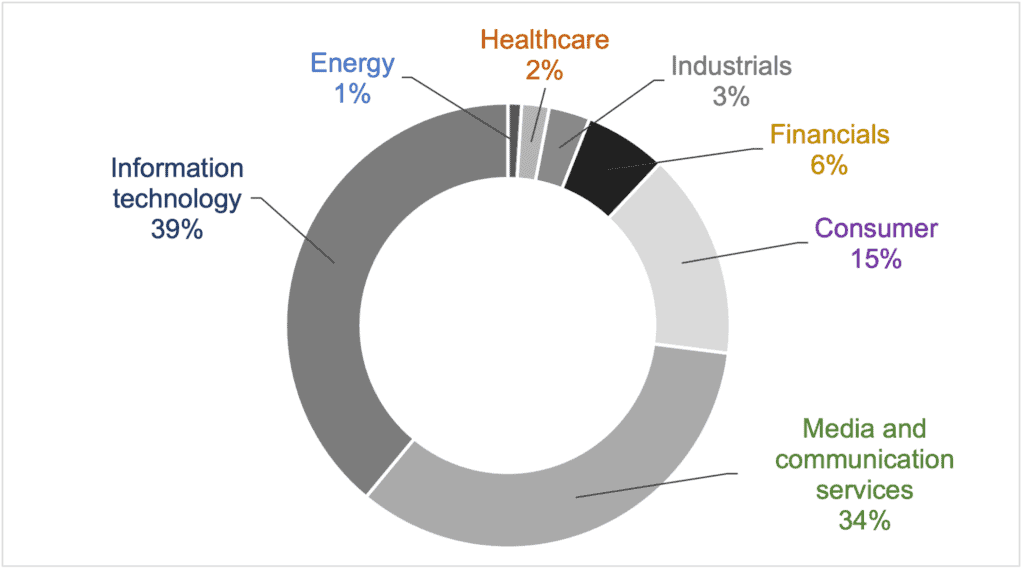 Today, the US leads the way in subscriptions with 53% of the market, but the model is popular globally. And with e-commerce, access to subscriptions is ubiquitous.  
Separating subscriptions from everything as a service (XaaS) is impossible. Everything and anything can be sold as a service with a subscription or subscription plan: Coffee beans from Bottomless Coffee, cars from Volvo, men's grooming products from Dollar Shave Club, pet food from Chewy, clothes from Net-A-Porter, home delivery from Amazon Prime, office applications from Microsoft, streaming boxsets on Netflix, training from Udemy, and the list goes on. We find subscription moments in every aspect of our lives:  
Future – The near-term outlook of subscriptions
In the post-pandemic lockdown era, some of the winners of the subscription economy have seen their growth stagnate or even experienced higher-than-expected customer churn. Lifestyle changes and return to work made some subscriptions less attractive. Higher cost of living makes customers, businesses, or consumers more careful with spending, increasing scrutiny on which subscriptions are genuinely wanted and used. Inconsistent delivery, insufficient innovation, disappointment, and fatigue have cost some segments of the subscription market: subscription boxes and fitness are examples. The B2B market is and will be less impacted.  
However, overall, there is no slowing down. Irrespective of the economic downturn, the benefits of the subscription models remain: They are simpler to finance, easier to change, and more convenient to use. Perhaps that is why, according to Statista, the subscription market will continue to grow at 18.4% CAGR to reach 1.5 trillion dollars by 2025.  
This expansion rate will require businesses to invest in the tools and technologies that allow them to operate the subscription model efficiently and effectively. The companion guide to this article, Transitioning to Subscription Revenue – A Process and Technology Guide, will give you more details.