Employee Spotlight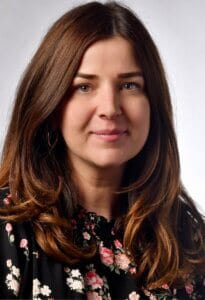 E2open is powered by a strong global network of problem solvers and innovators who are driven by strong values and our company culture. Together, we are focused on doing what's right in business, and in our communities. Every month, we will shine a spotlight on an exceptional team member who is helping us transform the supply chain industry. This month, we held a Q&A with Heloise Szabo, Account Director of New Logo EMEA.  
Q: How long have you been part of the e2open team?
A: Three years. 
Q:
Where are you based (city, country)?
A: Munich, Germany. 
Q:
What was your first job?
A: Account Manager for a SaaS Project Management software company in Paris. 
Q:
What do you like the most about the culture at e2open? What do you think makes it unique?
A: E2open trusts and listens to its employees. Everything is result-based and there is a clear freedom in the way we can organize our work, communicate, and/or meet deliverables. 
Q:
What are you most proud of in your career so far?
A: Winning two high-profile, new logo contracts in a row with the team (2022). 
Q:
What three words would you use to describe e2open?
A: Trust. Harmony. End-to-End. 
Q:
What hashtags would describe your personality the best?
A: #Brave #Empathic #Straightforward #Details #Funny
Q:
If you could give career advice to your younger self, what would it be?
A: Do not overthink your preferred career path. If there is a clear goal, there is always a way! 
Q:
What is your one guilty pleasure?
A: French cheese + baguette!
Q:
Do you have any kids or pets? If so, what are their names?
A: I have a 3-year-old black cat (Bombay breed). Her name is Zoé and she is very well known at e2open – always appearing on the camera or climbing behind me while I am presenting. She is noticeably short (which makes her a forever kitten), charming, and irreplaceable. 
Q:
What is one thing you cannot live without?
A: A fireplace! 
Q:
What are your hobbies?
A:  
Theater: I have been acting on stage since I was a child (improv or contemporary/classical plays).

 

Travels and exploring nature: I live remarkably close to the Alps, but I have also had the chance to visit 58 countries. I am keen to discover new cultures and make great memories.

 
Games: I find them incredibly fun and as a salesperson, I like challenges.

 
Q:
What is your favorite thing about the city/town in which you currently live?
A: Munich is clean, very safe, and beautiful. It is one of the only big cities in Europe where you can swim in nature directly at the city center or bike easily everywhere. 
Q:
What is your favorite way to unwind after a long day?
A: Cooking any type of food while listening to a podcast or going to a spin class! 
E2open is a purpose-driven, people-powered company that values diversity, equity, and inclusion. We are always on the lookout for creative problem solvers, so if you are interested in joining an innovative technology company, we encourage you to check out our careers page to see if e2open is the right fit for you.