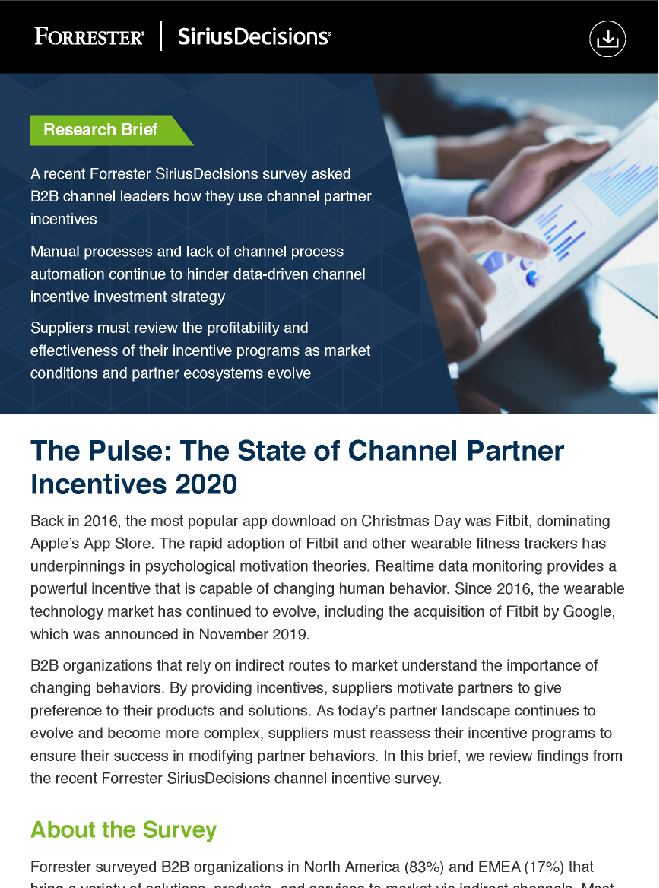 The highly anticipated
Pulse Survey

is finally here! Produced every two years, this research brief provides comprehensive facts, figures and valuable advice on the nature, level and impact of investments in channel partner incentives.
Privacy mode may affect your ability to download content, so we recommend standard browser settings.
The research is the result of a thorough survey covering a broad range of companies across North America and EMEA, primarily in IT, telecom and business services. The survey investigated the goals, behaviors, investment levels and degree of program success for the organizations included in the research.
The analysis highlights six key observations:
Incentives strategies target the channel ecosystem, not just transactional partners

Programs start to focus on leading indicators that drive future success

Many channel partner incentives remain ineffective

Demand generation activities receive the largest portion of funding

Measuring incentives performance is improving but continues to be difficult

Investments in channel partner incentive programs are expected to grow, but will likely face increased scrutiny
The opportunity to benchmark your company's incentives efforts and improve based on sound recommendations make this research brief a must-read for anybody with channel program responsibility.
Ask us how E2open can help improve and strengthen the strategy and execution of your channel partner incentive programs.