Employee Spotlight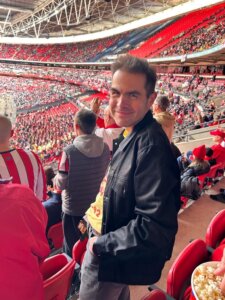 E2open is powered by a strong global network of problem solvers and innovators driven by strong values and our company culture. Together, we are focused on doing what's right in business and in our communities. Every month, we will shine a spotlight on an exceptional team member who is helping us transform the supply chain industry. This month, we held a Q&A with Giacomo Squintani, AVP Sales, at e2open.  
Q: How long have you been part of the e2open team?
A: Since January 2, 2019. So 1,570 days…but not counting. 
Q:
Where are you based (city, country)?
A: Portishead, UK.
Q:
What was your first job?
A: Telesales/Telemarketing operator while at the University in the mid-90s. At £3.15/hr, far more valuable in terms of experience than short-term financial gain…
Q:
What piece of career advice would you give to a recent graduate who is entering the workforce?
Never slam the door on your way out, and never look down on people on your way up. It's a small world. 
Q:
What
is your
greatest personal
accomplishment during your time with the company
?
A: Leading the divestiture negotiations around BluJay in Italy. 
Q:
What three words would you use to describe e2open?
A: Welcoming. Challenging. Rewarding.
Q: What is one meal you cannot live without?
Cereals. I love Nonna's tortelli di zucca… but I cannot live without breakfast. 
Q: What's playing through your headphones this week (song, musician, podcast)?
Bruce Springsteen. Or should I change my answer after 35 years? 
Q: What three words would you use to describe the neighborhood where you live?
Suburban running track. 
Q: When you are traveling, what are the five most important things in your carry-on luggage?
Anti-epilepsy meds; noise-canceling headphones; Kindle; running shoes (should my checked-in luggage, not land where I do); a spare set of anti-epilepsy meds. 
Q: If someone were visiting your city for the first time, what would be something you'd tell them NOT to miss?
Portishead's a town. I'd say the road out… then follow the signs for Clifton Suspension Bridge in nearby Bristol and take a walk across. If you pass the 14th-century pub en route… your call. 
Q: How would you describe the perfect Saturday?
Run in the morning. Three points for Sheffield United in the afternoon. Takeaway + movie with the family in the evening. 
E2open is a purpose-driven, people-powered company that values diversity, equity, and inclusion. We are always on the lookout for creative problem solvers. If you are interested in joining an innovative technology company, we encourage you to check out our careers page to see if e2open is the right fit for you.