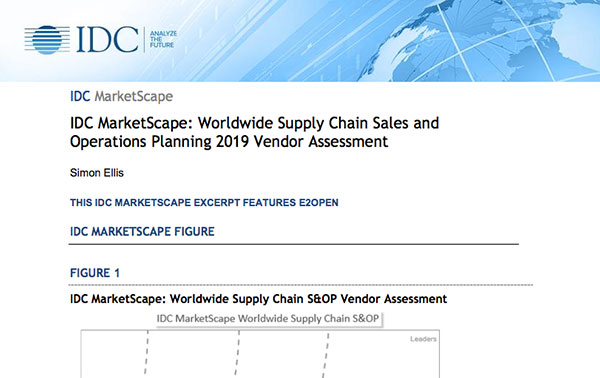 Sales and operations planning (S&OP) is essential for supply chain efficiency and profitability. Access a free copy of this report to help your company improve the functional performance of your supply chain planning processes.
Privacy mode may affect your ability to download content, so we recommend standard browser settings.
IDC® examined the S&OP solutions market and evaluated vendors based on their strategies and capabilities. e2open was named a leader.
IDC notes the growing demand for S&OP and its multi-enterprise nature, highlighting e2open's capabilities: "Effective sales and operations planning requires cross-functional buy-in and collaboration at all levels. e2open S&OP transforms traditional planning by enabling all stakeholders, internal and external, to collaboratively manage the S&OP process, create consensus demand forecasts and reconcile constrained plans with financial goals."*
To learn more, access your complimentary copy of this IDC MarketScape® report.

*IDC MarketScape: Worldwide Supply Chain Sales and Operations Planning 2019 Vendor Assessment