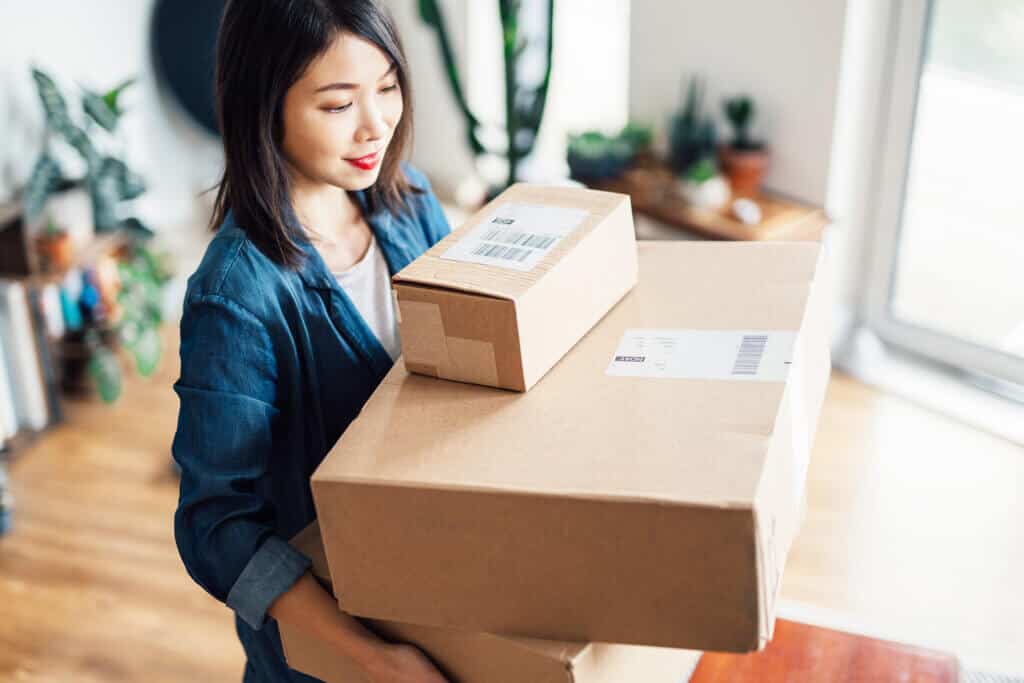 Planning for peak holiday seasons is an all-consuming task for major e-commerce shippers. While there are expectations for 2022 to be less disruptive than in recent years, e-commerce shippers must still be prepared. Organizations should have airtight plans for the stress that will come from demand on Black Friday, Cyber Monday, and the days that follow. As you read through this blog post, ponder the questions we present based on your company's supply chain and consider how to make improvements for greater success.
We all know the causes: COVID's extended impact on the supply chain, the continuous year-over-year growth of e-commerce volume, major carriers' efforts on more profitable (read: not ground) services, and a tight, unpredictable labor market. As a parcel shipper, especially if you are fulfilling B2C or B2B customer orders, your logistics teams, and those providers you rely on to get through the high point of the shipping season should be actively engaged in conversation.
Are you asking the right questions, and do you have the right answers that will help your organization prepare for peak season in 2022? To help you get started, here are some questions to ask.
How resilient are your parcel shipping and delivery processes?​
A resilient logistics process is designed to absorb or pivot when faced with disruptions.   These disruptions aren't unknown, we've all been doing this a while, but the volume and timing of shipments can sometimes bring surprises. Having options for a wide range of carriers and services can make a big difference. More importantly, having the ability to 'shop' for the best-aligned service can make a difference. Side-by-side comparison, optimized prescriptive suggestions, and learned shipping behaviors that are delivered in a global parcel solution are essential tools.
Will the shipping capacity constraints of your primary carriers have an impact on on-time delivery to your customers?
One of the biggest factors of the last few peak seasons has been big parcel carriers throttling volumes from major shippers due to stress on their networks. The carriers simply don't have the capacity to ramp up for the intense volume they're asked to manage during the holiday season. Often, contract terms between carriers and shippers reflect this scenario, giving carriers flexibility in timeframes that stress their resources.
Also, major parcel carriers are changing how they do business, focusing on more profitable services and the predictability of their resources. This creates inflexibility for high-volume parcel shippers, and new unknowns around their capacity and pricing, especially during peak periods. Ask yourself – do you have the pieces in place to pivot?
Have you expanded your carrier network in 2022?
One way to mitigate the risk involved with the resiliency of your carrier network is to diversify your carrier network. Expanding relationships to include regional parcel carriers and ensuring you have options with major national carriers is a good way to have confidence you'll find a service that can deliver. This can include working with same-day or courier networks and leveraging Less Than Truckload (LTL) carriers for zone-skipping and bulk cross-border moves as part of your parcel management strategy.
Do you feel you have a good handle on the package-level surcharges currently levied by the big parcel carriers?
Rates are rising. Major U.S. carriers have raised rates by an average of 5.9%. However, the extension of peak surcharges and the discretionary handling charges levied by the big guys can mean increases of 8% or more, depending on the service. Budgeting for this increase and unpredictable variability will continue to be a challenge.
Are you utilizing tools and processes that give you customer service visibility and allow you to be proactive in managing exceptions in the delivery process?
One thing is certain: We will see an increase in on-time delivery challenges this peak season. Your customer service organization will be strained to respond to a high volume of 'where's my package?' questions. Are you helping customers help themselves? Do you have the data available to answer their questions when they call your customer service centers and if they want to look shipment status up on their own?
Customer expectations are higher than ever, and the need to know if a package will be on time for the gift-giving season is always a priority for e-commerce customers. Visibility tools for customer service groups and direct consumer use are improving. Are you taking advantage of those tools to improve customer satisfaction?
Are your analytics contributing to peak shipping improvements? ​
Dashboards that give you historical cost analysis and carrier performance metrics are great – you're covering the basics. But to get the most out of your data, you should produce prescriptive reports to inform actions to get the most out of your carrier network.
Shippers are taking analytics to the next level and utilizing tools that create data-driven recommendations to be competitive. Looking across data to improve your carrier and service selection is a start. Tools should find patterns across the breadth of your shipping data to identify changes in how you work with carriers to optimize. Are you using express services when ground services would provide a lower cost, on-time alternative? Are you seeing patterns of late delivery to specific zones when you utilize a specific carrier and a specific service?
Analytics provide real value by supplying actionable insights with a broad impact. The savings multiply when applied across tens or hundreds of thousands of shipments.
Post-peak: Are you utilizing an efficient audit process for your parcel carrier invoices?
The balance between paying invoices on time and having confidence in the accuracy of those invoices is a challenge. After peak shipping, your team doesn't want to be surprised by costs coming from your carriers, and you want to be able to rationalize transport spending during your highest volume period.
Carrier invoices are frequently incorrect, primarily because of the sheer complexity of shipping contracts and the number of variables that can change daily. Whether in-house or outsourced, manual review processes can be costly and time-consuming. Any high-volume shipper should look at automation to drive the reconciliation process and the level of integration with their accounts payable system. Quickly identifying issues on carrier invoices and engaging in an accurate claims process yields immediate benefits. We've seen savings of 10% or more on freight spend when a comprehensive automation process is implemented.
Are you ready for peak this year? Are you ready for peak next year?
Peak parcel shipping has always come with challenges. Preparing for the most intense part of the year is never too soon. Your goals should include:
Minimizing disruptions throughout each shipment's lifecycle
Improving and expanding your carrier relationships to diminish doubts about your carrier network's ability to manage your volume
Utilizing effective technology to execute the most effective options for shipping execution and cost management
Taking data beyond historical dashboards and using that data to make actionable decisions that make a big difference in cost and efficiency
Do you want to take peak readiness to the next level?
According to Gartner, "the rise in e-commerce has changed consumer buying behavior. Because of these increasing sales, retail companies should seek a complete supply chain solution, enabling them to develop new products, expand their regional presence and enhance their capabilities."[i] E2open Global Parcel sets up each parcel shipment for successful delivery, whether it's crossing town or crossing borders. Directly integrated with e2open's transportation, global trade, and supply chain management applications, Global Parcel also integrates with external business systems to seamlessly execute shipments from any operation. Furthermore, it's the only Global Parcel solution in the marketplace connected to an end-to-end supply chain management platform.
Global Parcel from e2open can help you answer most, if not all, of your most important questions around planning www.e2open.com/logistic-global parcel.com
[i] Innovation Insight: 4PL Outsourcing Models Reduce Logistics Risk and Optimize Cost, Gartner. Matthew Beckett and David Gonzalez, 12 September 2022.