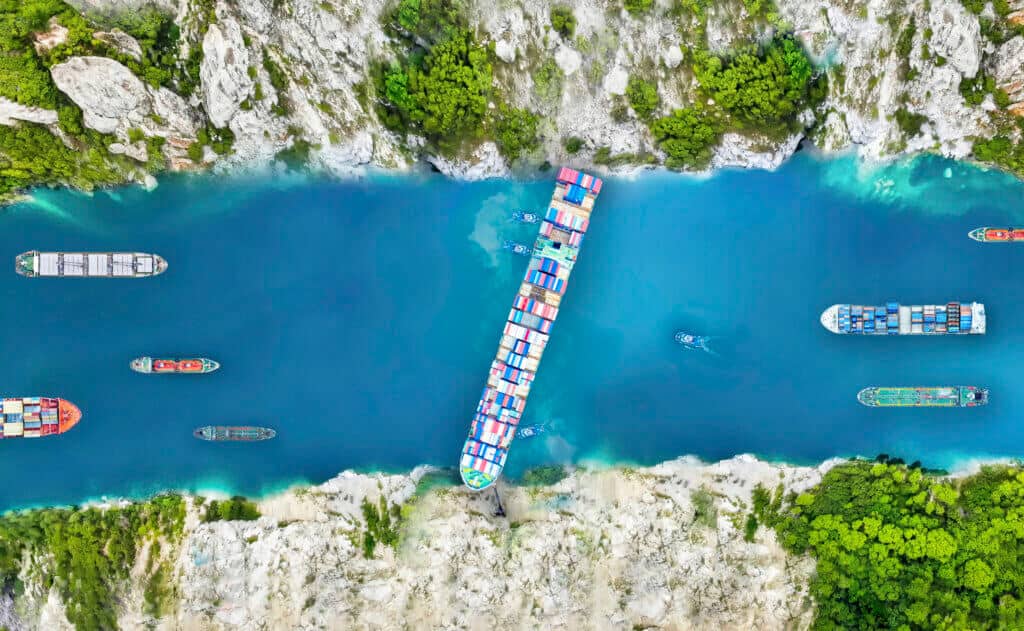 Supply chain students worldwide will someday study the "COVID-19 years" with a magnifying glass as intensely as the Industrial Revolution. Yet as a shipper or forwarder living through this, you don't have the luxury of hindsight. Instead, you are trying to tame the supply chain even as supply and demand fluctuate in response to unpredictable international events. The results of the past pandemic year have brought dramatically increased container shipment rates, limited ocean capacity, delayed shipments of raw materials and a slew of other obstacles.
Our Shaken (Not Stirred) Supply Chain
According to DHL, by the late spring of 2021, the average physical capacity on ocean carriers running between Asia and North America was up more than 45% on a year-over-year basis and remains much higher than in typical years. That would suggest there was plenty of available capacity to go around, yet shippers and forwarders still struggled to find space for their cargo bookings. This lack of space leads one to ask, what exactly happened to push demand for ocean capacity past this already increased limit?
The answer is multi-fold and begins with the market shifts that started in early 2020. Consumer demand was the biggest driver of economic shifts during this time. You'll remember the rush during the first wave of the pandemic to purchase everyday household items like shelf-stable foods, cleaning products and toilet paper. Consumers quickly pivoted away from doing most of their shopping in person at brick-and-mortar stores to favor online home delivery and curbside pickup. To leave home as infrequently as possible, many people chose to buy more than the typical quantities. Other usually predictable industries, like apparel, saw shopping patterns severely deviate from the forecast, with consumers emphasizing items like athleisure instead of trousers.
These extreme shifts in consumer behavior had logistics professionals scrambling to keep retailers stocked for the onslaught. Demand planners threw out their forecasts, and transportation teams set contingency plans—if they had any—into motion. Instead of the short-lived stir a typical isolated event such as a storm might cause, it was as if the global supply chain and the economy along with it were shaken roughly and poured out into the frothy cocktail that is the new norm for 2021.
Attempts to Find a Balance
As we settled into the first half of 2021, these new consumer shopping habits have become more of a rule. While e-commerce supply chains require much more complex operations than those for big box stores, there was optimism that the worst of the 2020 supply chain turmoil was behind us. Unfortunately, that has not been the case.
Now, it's no longer consumers that are driving the unprecedented spikes in demand for ocean capacity. Instead, the world is experiencing an anomaly where producers and manufacturers are panic-buying materials and parts to ensure no shelf (whether digital or physical) is left empty in case of another unforeseen event. This panic-buying is partially due to the blockage in the Suez Canal in March of this year when companies worldwide found themselves facing delayed downstream orders. Some compensated by buying surplus materials from vendors to tide them over until normal channels began to flow again.
The rush to purchase additional raw materials escalated as those very same raw materials started to run out at a faster rate. No manufacturer wanted to be the company that didn't secure enough materials for production. The overall disruption has been immense, and the ripple effects continue to be felt by companies worldwide.
Besides changes in buying patterns, COVID-19 has also had a direct impact on shipping operations. Right now, India is facing a devastating wave of the pandemic. Lockdowns are in effect to try to flatten the curve, but many are still suffering. As a result of the immense upheaval caused by the pandemic, cargo is being affected as well. One of the largest ocean carriers by volume in India reported to the Journal of Commerce that labor scarcity, especially a shortage of truck drivers, has started to impede the cargo flow to and from port locations in India. This shortage is occurring despite demand continuing to be relatively steady and few restrictions remaining on manufacturers. Port congestion and increasing dwell times add up and will continue to wreak havoc on international cargo lanes if they last throughout the summer.
The "invisible hand" of the economy appears to be at work in the supply chain. World trade is trying to right-size itself by forcing prices higher to reduce demand. Hapag-Lloyd CEO Rolf Habben Jansen told the JOC in a market update briefing that they were attempting to hold rates steady, but that the unprecedented market shifts were forcing short-term rates to rise alongside bookings.
Ocean Capacity Shortage Solutions
It is important to remember that ocean carriers have been forced to pivot alongside shippers and freight forwarders during this pandemic. In standard times, demand can be planned and labor allocated appropriately. While there may have been a few speedbumps at times, ocean carriers have successfully kept international trade flowing. Without their ability to react quickly to changes in demand, the entire global flow of goods would have suffered much worse than it has. With that said, capacity is still tight. According to Bloomberg, American transpacific container imports increased more than 50% in March 2021 compared with March 2019. Carriers are now taking action to manage this increase in demand:
In the first five months of 2021, as many

container ships were ordered

as in the two previous calendar years combined, according to the Wall Street Journal.
Some are even considering

rerouting

lanes to avoid congestion
Carriers are investing heavily in new equipment, some adding as many as

250,000

additional TEUs.
While ocean carriers are doing all they can to meet the needs of their customers, it's still in the best interest of every shipper and forwarder to be proactive in their approach to procuring space on a ship. Disruption in the supply chain is the new normal, and the ramifications of the pandemic and other disruptions are predicted to continue into 2022.
Shippers and forwarders are facing new realities:
Some carriers now require shippers to reserve capacity 120 days in advance instead of 90.
A predicted ongoing

shortage

of raw materials is likely to result in continued manufacturing delays.
Incorrect

verified gross mass (VGMs)

communications and shipping instructions can cause back-ups in already strained lanes and may result in rejected cargo.

Container rates

are likely to continue to be at heightened levels during the summer of 2021.
Value-Added Services: Efforts to Mitigate Ocean Capacity Constraints
Shippers and freight forwarders risk losing revenue and customers if they cannot deliver their products. However, there are ways to manage these ocean capacity constraints and help increase the likelihood that cargo arrives as desired. Shippers and freight forwarders can turn to special value-added services (VASs) offered by their carriers.
VASs provide extra protection to the shipper or forwarder on a specific aspect of the cargo's journey. These services come in a wide range of options along with modularity to fit the customer's needs. Some of the extra services offered by many of the largest ocean carriers include the following:
Priority loading and unloading
Fast-track to the ocean terminal
Money-back guarantee in case of failure to meet service-level agreements
Guaranteed shipment delivery
Spot rates for supplementary capacity outside negotiated rates
Shippers and freight forwarders leveraging e2open's ocean shipping technology can seamlessly add services like these to their bookings with several major ocean carriers. Directly adding VASs streamlines the process of booking ocean capacity. A VAS can mean the difference between a successfully delivered order and an unhappy customer and can help shippers and freight forwarders navigate the turbulent logistics environment.
As the summer progresses and the capacity crunch worsens, VASs will continue to be essential for shippers and freight forwarders concerned about time-sensitive cargo. E2open's Transportation Management application can help you easily and quickly find freight capacity and add additional services. Contact Us to Learn More.
More from e2open
Case Study
Global Logistics Provider Improves Service Levels, Compliance and Margins
Read the case study