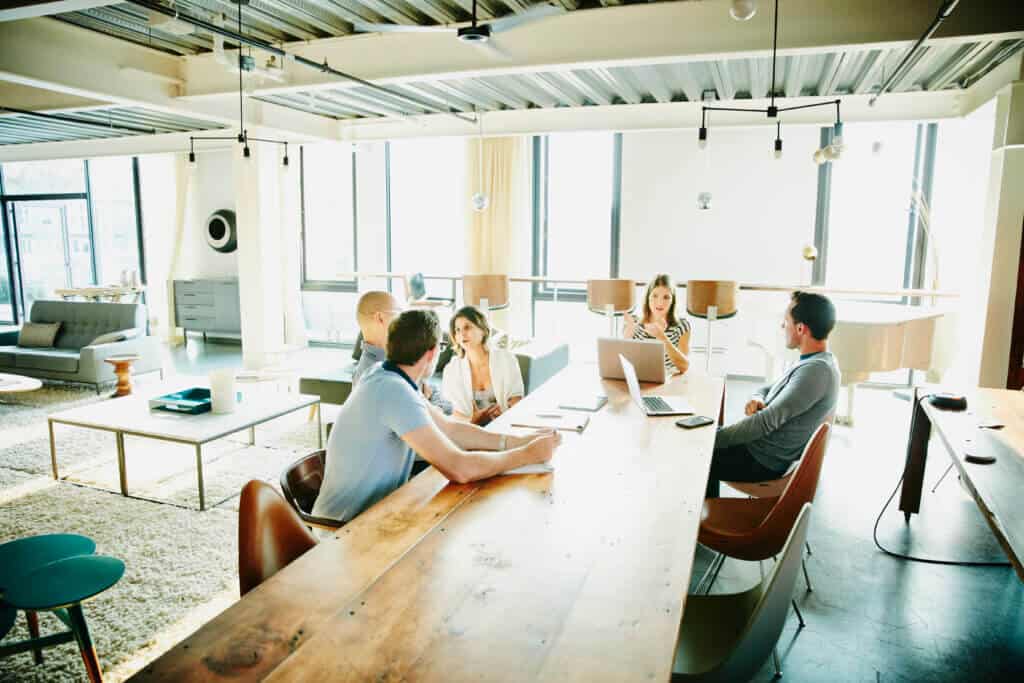 Sales channels have always been evolving. Historically, there were middlemen. More recently, there were influencers. Now, the world is entering the third age of channels: the ecosystems. Each age builds on the previous one, adding new nuances, models, and demands at an accelerating speed. Businesses that understand this evolution and embrace or drive it stand to gain a first-mover advantage and capture customers and partners alike.
A journey through the evolution of channels will highlight the changes and what is needed for companies to support the transformation.
The First Age of Channels: Middlemen
Selling through indirect channels goes back a long time. European merchants took silver to China and returned with silk, porcelain, and tea. Arabian vessels brought spices from producers in India to Aden (present-day Yemen). One might say trading through intermediaries is as old as civilization itself.
Producers distributed the goods through middlemen to increase their reach, access local knowledge, establish credibility, and achieve speed-to-market. In return, they had to forfeit some margin and control over how their products were positioned and sold.
The middleman model was simple: the partner took possession of the goods and sold them with or without ancillary products and services, adding margin. Manufacturers supported the partner through various methods such as pricing incentives, training, and go-to-market enablement.
Over time, technological progress made it possible to innovate faster, produce goods quicker, and move products further in a shorter time. These advancements created growth opportunities. To capture them, those making the products expanded their indirect channels. This introduced a new dynamic: competition for partners' attention and wallet share. Manufacturers and brands started to develop complete channel programs, and the support they offered their partners became increasingly sophisticated. The indirect channels matured. However, for centuries, if not millennia, their essence did not change. The relationship between brands and their channel remained transactional. The channel partners were just the middlemen.
The Second Age of Channels: Influencers
On August 12th, 1994, The New York Times reported that two young cyberspace entrepreneurs sold a Sting album online, making this the first secure retail transaction on the Internet. By 2020, according to Statista, over 2 billion people purchased goods or services online.
With over 1.83 billion websites and 24 million e-commerce sites in operation today and an expectation that, by 2040, 95% of all purchases will be via the Internet, the online distribution model is firmly established. Its impact on traditional indirect channels is radical.
The expansion of online trading and the growth of digital marketplaces such as Amazon, eBay and Alibaba exposed end customers to more product information than ever, including pricing, competitors and overall capabilities. The hyper-spread of e-commerce changed the buying journey for consumers and businesses alike. It made it increasingly easier for end customers to purchase directly from manufacturers and brands. Now 87% of business-to-business (B2B) buyers prefer to base their purchasing decisions on online research rather than engagement with a salesperson.
Furthermore, multiple sources indicate that today, more than 40% of B2B buyers complete their purchases online. The ease of researching and buying online created a need and opportunity for additional breeds of channel partners. It led to the rise of the influencers. These are companies that promote the brand owner and assume a guiding role in helping customers sift through volumes of information to make purchasing decisions. Influencers co-exist with the traditional middleman style of channel partners. For influencers, though, the transactional relationships typical of engaging with distributors, resellers, and agents are irrelevant. What works for influencers is a collaborative engagement model based on sharing knowledge, information, and leads. The brand's channel programs will need to adapt to capitalize on this new class of partners. 
The Third Age of Channels: The Ecosystem
The last several years revealed a new development. Solutions to customer challenges—especially B2B customers—are increasingly complex. Continued technological advancement opens a plethora of product combinations, sourcing options, and services to bring everything together cohesively for every challenge. At the same time, globalization exacerbates the impact of external factors on business more than ever before. Consumer activism and interest in social responsibility influence buying decisions. The political polarization of society, trade tensions, a precarious economic outlook, increased regulation and major natural events like forest fires or the global pandemic have widespread disruptive effects and make it necessary for businesses to build resilience in their solutions. If you are interested in resilient solutions for the channel, my blog post Channel Technology Can Improve Your Response to Macroeconomic Conditions provides a more detailed analysis.
In this context, most customers are no longer happy to simply receive advice and act by themselves to implement that advice. Looking for and putting together all the pieces of the puzzle themselves takes too long. It requires a level of resources most businesses are not prepared to deploy, and the risk level is too high. Tighter budgets also drive B2B customers to seek one-stop solutions to their challenges. They expect brand owners and/or their leading partners to take an active role in assembling everything that is needed and orchestrating all the parties involved. This expectation drives collaboration as well as competition and blurs the lines between roles within the channel. Multiple partners engage in closing a sale, and a supplier could also be a distributor or vice-versa. Each plays a part in sync with the other constituents. One or more participants bring the product. Others bring the skills and others the infrastructure to provide the complete response to the customer's demands. The channel has become an ecosystem with these evolving business needs and expectations. The relationship between the brand and its extended partners has become one of orchestration.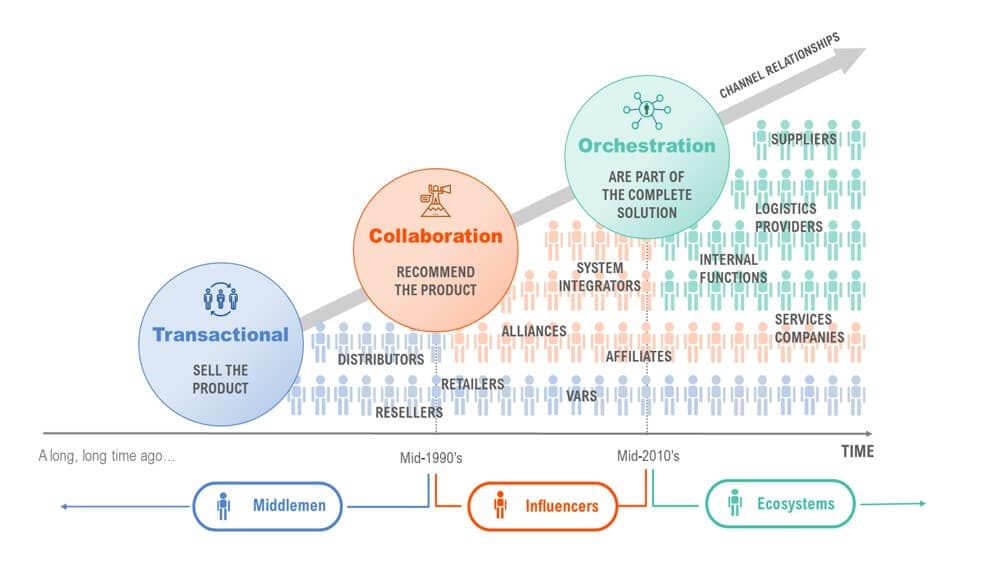 The diagram above can help visualize the development of channel processes and technology over time. However, in reality, these developments are not linear. The middlemen, influencers, and ecosystems all exist side-by-side today. It is a time of complexity and opportunity. Most companies still rely on middlemen. Some have made the shift, put in the effort to attract influential, non-transactional partners, and adopted collaboration as the mechanism to engage. Based on their size, industry, or portfolio complexity, some companies may not need to change their channel model for a long time. But for those organizations significantly impacted by the factors that are bringing about the age of the ecosystems, becoming early channel orchestrators can provide the means to transform their business and an opportunity to outperform their peers. In the long term, it may mean survival.
To Learn More about this topic and what it takes to be an orchestrator, download the white paper Adapting Channels to the New Ecosystem Economy.