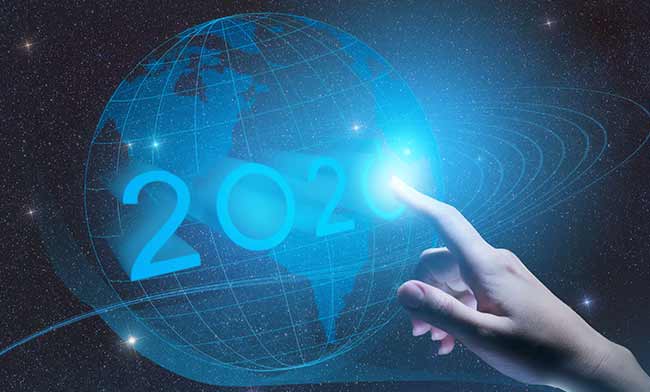 When it comes to global trade compliance, 2020 is not the time to bury your head in the sand. Let's face the fact that existing trade frictions are here to stay for the foreseeable future. There is also no denying that legislators are looking at how to link future regulations for climate change and e-commerce to cross-border activities. This adds more complexity to global trade management, leading to higher compliance risks, increased duty costs, lower margins and longer lead times. But don't despair – help is on the way! Advances in machine learning and artificial intelligence are revolutionizing how global businesses respond to these challenges. This is done by boosting compliance while offsetting costs by taking full advantage of new trade opportunities and free trade agreements. So, hold your head up high with confidence, start your engines, and let's get into an exciting new year.
First Prediction: Winners keep their eyes on the prize despite trade turbulence
The fight for ideas on the right trade policy for the future is on. And in 2020, it takes no prisoners! With the US blocking crucial reappointments of the experts in the so-called Dispute Settlement Body (DSB) of the World Trade Organization (WTO), the "sheriff" of international trade has lost all firepower. Renowned as the only body to settle trade grievances in a structured, orderly way, the DSB now lacks sufficient decision-makers. Without a US-nominated expert, there are not enough members to make decisions. Now unable to tackle any wrongdoings of WTO member countries in any meaningful way, it's potentially a "free for all" for all countries to do as they please.
What is the likely consequence for global businesses? Possible impact includes the imposition of additional import duties for specific products imported from target countries, an increase of anti-dumping and countervailing measures, and more restrictive and punitive actions by customs and trade authorities.
For businesses to thrive in such a volatile environment is challenging. There is a renewed need to focus on mastering changes to trade rules. This involves, crucially, to stay up to date with the latest rules and regulations and adapt quickly after the regulatory change. This means that any non-conformity across individual transactions needs to be caught—every time. Trade automation powered by the most comprehensive global trade content allows companies to stay agile and keep their eyes on the prize, despite the significant turbulence at the WTO and global trade.
Prediction Two: In 2020, navigating trade restrictions means new compliance headaches, but also cost reduction opportunities
Trade tensions and regulatory changes will continue to affect global businesses in 2020. Recent examples include the UK's imminent departure from the EU Single Market and their Customs Union, the ongoing US-China Trade Dispute and the Chinese Export Control Regulation. Trading with Iran remains a problem, too. All of this creates trade compliance headaches for global businesses. And it is expensive.
Brexit
With the full-blown Brexit postponed until 2021, the to-do list for global businesses to get Brexit-Ready is long: supply chain impacts, the costs of customs border clearance, the question of trade with Northern Ireland. The trick is to devise a strategy to offset the costs with some duty savings—for example, by preparing now to make optimal use of the upcoming EU-UK FTA or any of the trade agreements that the UK has or will sign with third countries going forward. When these kick into operation, companies need to be ready to assess their products for "originating content" to begin saving on customs duty right away.
US-China Trade Dispute
The ongoing US-China Trade Dispute is a costly affair, with $100bn in tariffs now levied against each other's products, with currently over 1,500 items—ranging from robots and trains to snow blowers—threatened by new tariffs—a real 21st century protracted trade battle. What's particularly challenging is that both China and the US always change the type of products to apply punitive duties rates. They also devise exceptions that are complex to comprehend. As a result, companies can quickly lose visibility of their total landed costs, which can shrink profit margins unexpectedly. Hold-ups at the border due to incomplete paperwork do the rest, and before you know it, a previously attractive market has dried up. Time for a step-change. Gaining full visibility of ever-changing duty-rates and import requirements is possible today with intelligent import management applications which independently calculate total taxes and fees and display applicable rules and regulations. No matter how many more measures the parties take, using modern trade automation tools allows every importer to be ready.
Chinese Export Control Law
The National People's Congress (NPC) of China published the 2nd draft of Export Control Law around Christmas 2019 and invited public comments. Observers expect the law to be applied in 2020. The law introduces severe late penalties against violators and allows Beijing to retaliate against any discriminatory export controls targeted at China. I hope your Chinese language skills are robust enough to manage this. If not, look no further than E2open's export compliance software to adhere to these rules and avoid unnecessary costs.
Trading with Iran remains a no-go for most
The recent announcement of the Iranian government that it will no longer observe specific commitments in the 2015 nuclear deal, known in short as JCPOA, can further undo the efforts undertaken by Europeans to provide trade opportunities with Iran for EU companies. For US companies, despite being a desirable and large market, it remains wholly closed due to restrictions and prohibitions imposed.
Prediction Three: More trade agreements provide more savings opportunities
2020 could see its fair share of trade opportunities, providing businesses with great ways to reduce costs and increase market share if they can manage the complexities of the government programs. There is significant progress on several Free Trade Agreement (FTA) talks: The United States of America, Mexico, and Canada (USMCA) trade agreement is likely to enter into force in 2020. The US-Japan FTA is heading for ratification. The EU-Singapore FTA has entered into force in 2019; talks with Vietnam, Mercosur, Australia, and New Zealand are ongoing.
All in all, the EU has 35 major trade agreements with more than 60 partner countries. Free Trade Agreements are an excellent way to reduce or eliminate duty costs for global business. Of course, they don't just reduce and eliminate tariffs; they also help address behind-the-border barriers that would otherwise impede the flow of goods. However, FTAs can be challenging to administer manually. Luckily, there are automated solutions that can help optimize compliant FTA use.
Prediction Four: Climate legislation starts to impact trade compliance
Trade compliance is set on course to become more complex than ever before. In 2020, climate legislation is expected to include additional responsibilities for globally trading companies to screen products for carbon content and, if necessary, pay a CO2 duty/tax for more carbon-intensive imports. The EU, preparing to become the first climate-neutral continent by 2050, presented the idea of a "carbon border adjustment" tax to reduce the risk of carbon leakage. The hope is that such measures encourage higher ambitions in carbon reduction efforts.
What's more, the EU wants to add carbon reduction commitments to every FTA. A Chief Trade Enforcement Officer will also be employed to oversee compliance with restrictive climate legislation. Topics like CO2 fuel efficiency and "less distance traveled" will become boardroom discussions that lead to the adoption of new strategies that embrace climate action at the heart of business strategy, investments and international operations. Companies that don't take these steps may pay a high price!
Prediction Five: E-Commerce becomes more and more regulated
E-Commerce is one of the most exciting developments over the last decade, and online spending is sharply increasing: By 2021, retail sales are expected to hit $4.9 trillion—a 265% increase from $1.3 trillion in 2014—and representing 17.5% of total global retail sales[1].
As more and more parcels hit the road, more and more concerns are raised. The customs authorities may struggle to identify who the sender, the supplier and the actual importer are. This will make it difficult for the authorities to evaluate the risk of imported parcels. Shipments can be purposely split up in smaller pieces to reduce the customs value to be declared on the customs declaration. In many countries, if a declared customs value drops below a certain threshold, no duty payments are required. Customs also need to protect society and combat any criminal exploitation of e-commerce, for example concerning drug trafficking, counterfeited and pirated goods, money laundering and so on. Legislators must take action. First to act is the EU. From January 1, 2021 businesses need to declare goods up to 150€ with a customs declaration, mainly for security reasons and to levy value-added tax, as its exemption for products up to 22€ will disappears. The US Customs and Border Protection (CBP) is next. Since the beginning of the year, they've run a pilot project where a participant will transmit specific data about the shipments to CBP in advance of arrival. The so-called "Section 321 Data Pilot" is a voluntary collaboration with online marketplaces, carriers, technology firms and logistics providers, including Amazon, eBay, Zulily, FedEx, DHL and UPS, PreClear, XB Fulfillment and BoxC Logistics. The scope of the pilot was expanded in December 2019 by accepting data for shipments arriving by ocean and international mail. Businesses that can tap into a network of partners to get the required additional advance data (beyond the data elements currently required for shipments arriving by air, ocean, truck, or rail) and can check their accuracy against attest trade regulations are well prepared for those changes.
Conclusion
When it comes to trade compliance, 2020 is no time to stick your head in the sand. Regardless if there are trade frictions or openings, additional trade compliance requirements like climate legislation or e-commerce rules, companies are looking to trade automation management solutions to stay resilient, agile, and enhance trade compliance while reducing costs. This allows them to raise their head higher, above everyone else in confidence that they unlocked global trade for good. No matter which global trade headwinds are coming up, these winners will be ready.
[1] https://www.statista.com/statistics/379046/worldwide-retail-e-commerce-sales/
More in Global Trade Compliance