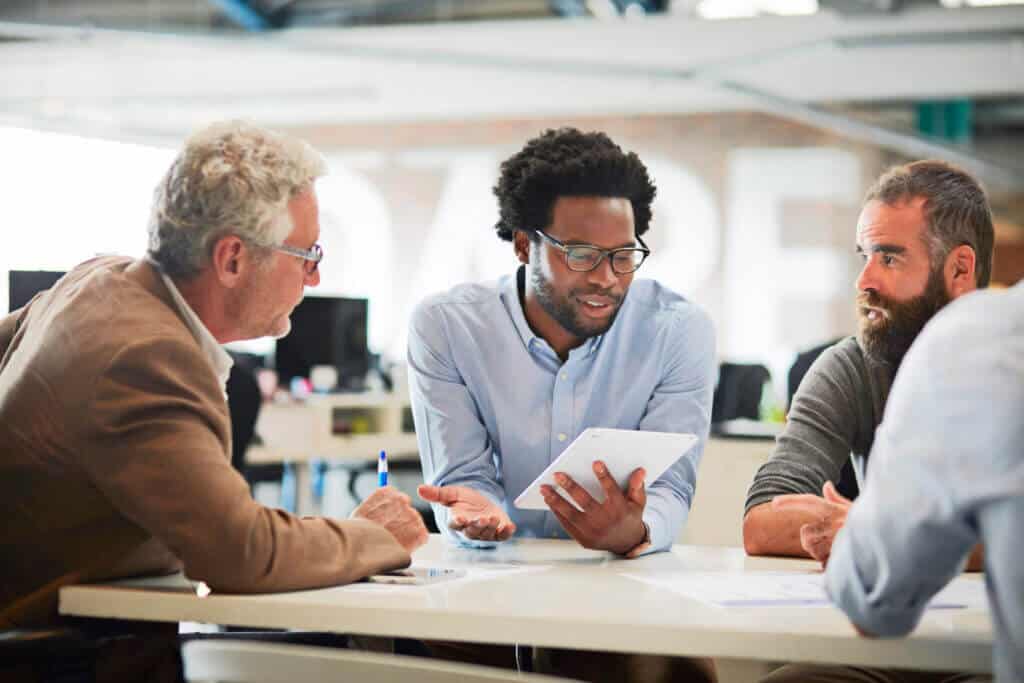 "If you fail to plan, you are planning to fail!" is a frequently quoted word of caution from Benjamin Franklin, one of the founding fathers of the United States. Sales and operations planning (S&OP) certainly falls into the category of essential planning, something a competitive supply chain organization can't do without.
Balancing Supply, Demand and Finance
S&OP is a cross-functional, cross-ecosystem collaborative planning process that turns business and market demand opportunities into a single, actionable operating plan by matching expected demand with available supply to maximize revenue and meet a company's growth objectives. Today's increasing supply chain complexities have made consensus planning more challenging due to larger forecast error measurements and a lack of full insight into supply opportunities and constraints. Now more than ever, world-class S&OP capabilities are central to the success of the end-to-end supply chain.
One of the biggest challenges any enterprise struggles with is the tradeoff between supply, demand and alignment with corporate objectives when it comes to maximizing revenue or increasing market share. Robust S&OP tools must provide forecasting capabilities and enable users to fill the "great divide" between demand and supply while ensuring alignment with corporate strategy and financial targets every step of the way.
Aggregating Granular-Level Data for Decision-Making
Forecasting typically happens at the lowest level of granularity—which can include detailed specifics like stock-keeping units (SKUs)—but the results must be aggregated up to a higher level to make business sense. Extremely powerful demand sensing tools are available that leverage machine learning capabilities to process large amounts of highly detailed, granular-level data to provide forecasting at the item-location-SKU level. By aggregating this data at various dimensions, companies can complete business objectives such as short-term demand fulfillment, medium-term supply planning and long-term capacity planning.
Similarly, the analytics capabilities within a robust S&OP tool enable complex and detailed S&OP data to execute in a simple, user-friendly manner. The S&OP tool should include persona-based analytics so different users can receive personalized data visualizations to help with decision-making.
Using Hierarchy Modeling to Adjust Complex Plans
The key requirement for making forecasting, analytics and S&OP capabilities work together is highly flexible hierarchy modeling technology that creates a digital representation of the go-to-market of the company and its trading partners.
A robust hierarchy modeling tool should be able to handle hierarchies across all dimensions. The following are some examples of the dimensions you can specify, but there are more:
Geography dimension: Countries, locations and markets your company serves
Product dimension: Products your company sells to customers, organized into product categories, families and subcategories
Customer dimension: Customers, resellers, channels, strategic customer groups and any other customer-related entities
Every business has its own unique requirements and business rules. When looking for a hierarchy modeling tool for your company, select one that is end-user configurable, complete with self-service capabilities for configuring the business rules defining aggregation and disaggregation. The tool should also be flexible enough to support different scenarios.
The powerful hierarchy modeling capabilities that can be found in advanced S&OP software such as e2open's Sales and Operations Planning application enable users to define and hold a multi-dimensional, multi-hierarchical plan and adjust it across hierarchies as needed.
The following use cases illustrate how an effective tool aggregates and disaggregates data across hierarchies and dimensions, giving you the ability to visualize the impact of changes up and down across the plan.
Use Case 1: Loading the Monthly Demand Forecast in the First Week
A company needed the ability to load the monthly demand forecast from a high-profile customer the first week of the month instead of distributing it proportionately across all weeks. This would enable the company to plan for supplies ahead of time and meet strategic service-level agreement (SLA) requirements for the customer. The organization's other customers required an even distribution across all four weeks because of a uniform supply commitment from the manufacturer.
The company was able to accomplish its goals for the high-profile customer by leveraging user-defined disaggregation in the S&OP hierarchy modeling tool as shown in Figure 1.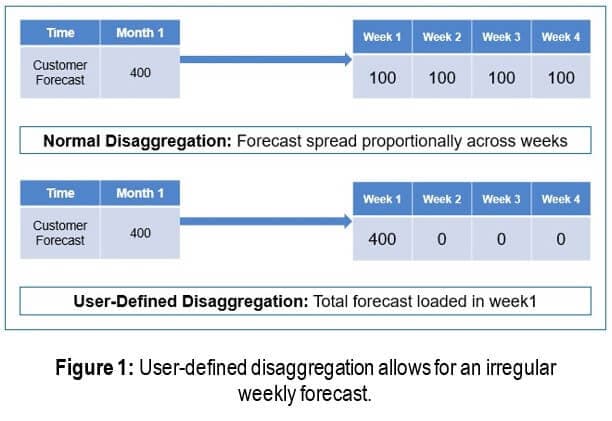 Use Case 2: Disaggregating Data into Prod
uct Families with Unequal Weights
User-defined disaggregation is also necessary when disaggregating data at the business unit level into product families and giving higher weights to certain families and/or regions. This is different from the standard proportionate disaggregation based on historical trend.
For example, a mobile carrier was selling a family of smart phones with four phone models and a proportionately distributed family forecast of 8,000. If the forecast was changed from 8,000 to 12,000 and the organization wanted to give the newest model of smartphone a higher weight of 40%, the disaggregation feature would assign 4,800 units (40%) to the newest model and distribute the remaining forecast to the other smartphone models proportionately. Similarly, Figure 2 depicts a scenario where there are three customers, but one of them receives more units than the other two based on a higher weight of 50% through user-defined disaggregation.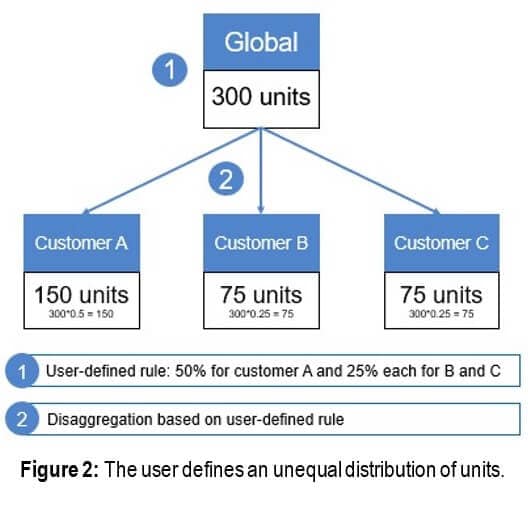 Use Case 3: Using Pinning to Restrict Top-Level Demand and Target Changes
A company that was bound by a capacity contract from a manufacturer needed to avoid exceeding a certain quota. To accomplish this, the company found it helpful to use the hierarchy modeling tool to define a pinning rule. Pinning is a process by which you can restrict top-level hierarchy demand and target changes so the pinned lower-level hierarchies do not change. This feature enables users to define a business rule for any specific supplier's or contract manufacturer's agreed-upon capacity quota and not exceed the quota whenever there is an upward revision in the top-level forecast that is being disaggregated downward.
Arming Yourself with the Right Planning Technology
Businesses face challenges on a regular basis, including the urgent need for drastic changes due to pandemics or trade wars. You need strategic tools and capabilities to adjust and respond quickly to unexpected obstacles—so don't fail to plan. Arm yourself with the right planning technology by selecting an S&OP application with advanced hierarchy modeling that can reflect how your company operates. The technology should aggregate data at a granular level and provide flexibility and tight integration with all aspects of forecasting, S&OP, analytics and supply planning. Then you'll be ready for success.
More in Business Planning
Save time and money by controlling waste and obsolescence with the built-in freshness capabilities of e2open's Multi-Echelon Inventory […]
With 135 structural and systems partner locations around the world involved in the manufacturing and fabrication of the […]