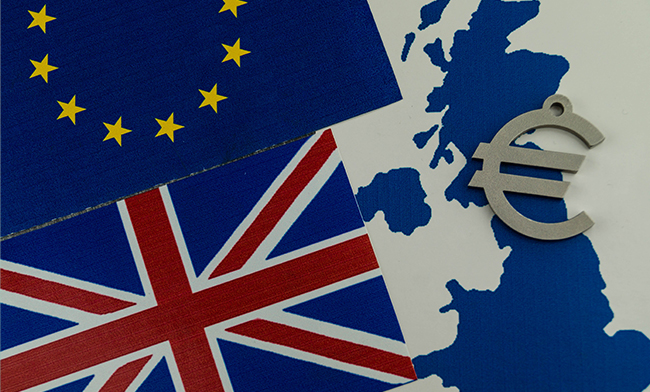 By Arne Mielken
Ever since the United Kingdom (UK) voted to leave the European Union (EU) in June 2016, Brexit has dominated political debates, newspaper headlines, dinner table conversations – often turning them into arguments – and vitriolic social media exchanges.
Supporters believe Brexit marks the dawn of a gloriously new and independent era for Britain, whereas opponents admonish it as folly, saying it threatens Britain's economy, international standing and cultural open-mindedness.
Three and a half years after the referendum, on 1 February 2020, the UK left the EU, the world's biggest trading bloc, entering a transition period until 31 December 2020, during which EU legislation, including customs and global trade regulations around import and export rules, will remain in force until replaced by a trade deal.
The EU's negotiating mandate for a free trade agreement (FTA) with the UK. On 31 January 2020, the UK withdrew from the EU. On 3 February 2020, both the EU and the UK spelled out their negotiating mandate for a partnership based on an FTA.
With experts and commentators remaining skeptical that a comprehensive trade agreement can be signed and implemented within this timeframe, we must discuss what this means for importers and exporters, and how they can best prepare for any eventuality.
Bracing for the Impact of an Australian–like FTA
On 3 February 2020, Prime Minister Boris Johnson coined new terms for describing what was formally known as a "cliff-edge" Brexit. "The question is whether we agree with a trading relationship with the EU comparable to Canada's – or more like Australia's. […] But in the very unlikely event that we fail, then our trade will have to be based on our existing Withdrawal Agreement with the EU", Prime Minister Johnson said. Even this comparison is doubtful as the EU currently negotiates with Australia for a more comprehensive trade deal.
For the past 46 years, the UK had been a sovereign member of the EU, operating within a fully established Customs Union and a Single Market. The EU's uniform rules and regulations mean that there is no need for cross-border checks when trading goods and services between member states. As a result, businesses have been able to establish complex supply chains that serve over 500 million customers from relatively few warehouses or hubs.
However, this will all change if an Australian-type deal is all that's left after the withdrawal period. The UK PM is opposed to extending this 11-month time frame and expressed "complete certainty that at the end of 2020, the process of transition to that relationship will be complete and that the UK will have recovered in full its economic and political independence".
The question for the rest of 2020 is whether the UK and the EU can agree a deeper trading relationship on the lines of the free trade agreement the EU has with Canada, or whether the relationship will be based simply on the Withdrawal Agreement deal agreed in October 2019, including the Protocol on Ireland/Northern Ireland. In either event, the UK will be leaving the single market and the customs union at the end of this year and stakeholders should prepare for that reality.
Leaving the EU Customs Union and the Single Market, even under the most comprehensive FTA means that borders will be re-established, potentially causing delays, increased paperwork and, if no "zero tariff, zero quotas" FTA can be signed, rising duty costs, with a potential to impact supply chains negatively. In any case, supply chains will have to adapt.
Failure to Prepare is Preparing to Fail
Whether an Australia deal, Canada Deal or some variant of an FTA is reached, the shape of future UK-EU trade relations remains perilously unclear to this date, as does the full impact of Brexit on supply chains.
Changing customs and trade regulations pose significant challenges for supply chain officers, whether importing or exporting. It's not only time consuming to read, understand and act upon hundreds of pages of ever-changing laws: it's also extremely labor-intensive and can lead to hefty fines and even jail sentences.
In addition, the UK may have to change the way it classifies products for import and export by changing its commodity codes and associated duty rates. Export control numbers for dual-use and military items may also need to be modified; and cross-border transactions may require a license, adding a layer of complexity that most supply chain professionals have never had to worry about.
Turning Challenges Into Opportunities
Today, the UK benefits from over 40 EU Trade, which reduces customs duty costs when trading outside the union. As soon as the transition is over, these will become invalid. However, the UK has agreed on trade continuity agreements with more than 20 countries which will apply from 1 January 2021. They will kick-start UK-US negotiations as soon as possible and engage with Japan and the other countries of the Comprehensive and Progressive Agreement for Trans-Pacific Partnership like Australia, New Zealand and Canada.
All of these new agreements offer opportunity, however also complexity for businesses. They are uncertain as to which agreements apply to their goods, it's cumbersome and time-consuming to understand an agreement's duty saving potential, as this requires a thorough analysis of the Rules of Origin and accurate product classifications.
Manually checking the validity of thousands of transactions against the latest UK regulations isn't feasible, increasing the risk of accidental non-compliance. But ignorance is no defense in the eyes of the law.
Brexit-ready solutions
That's why businesses must prepare for all eventualities. The one certainty is change: and businesses that can't keep up will be at risk. Importers and exporters cannot delay preparing for the 2021 real Brexit any longer.
To do this they need speed and agility to keep up to date with all regulatory aspects of the newly independent UK, from tariff changes to additional license requirements. This entire process can be automated with supply chain management technology like E2open's Brexit solution. Businesses can be Brexit-ready within 24 hours leveraging an intelligent application that delivers instant visibility on rules and regulations for any transaction involving the UK, and their directors can rest easy knowing they are safeguarded against the risks and costs of non-compliance.
FTA-Ready Solutions
Looking further afield, from 2021, businesses need to be able to successfully qualify their goods for all UK trade agreements worldwide in order to dramatically reduce the costs of international trade. The job is challenging: businesses must know which of the 20+ UK trade agreements apply, prove the origins of imported goods and provide ongoing documentation. Global trade management intelligent applications can help. They identify every applicable trade agreement, automatically qualify goods, help solicit suppliers for declarations and make documentation management easy. In this way, businesses can demonstrate compliance with complex rules of origin and reduce the risk of errors with a comprehensive bill of materials (BOM) analysis. Businesses can finally streamline processing simplify trade agreement management, reduce product costs and ensure compliance.
Conclusion
Can necessity be the mother of invention? Sometimes. Can uncertainty be the source of inaction and lost opportunities? Often. And uncertainty is one tariff that UK plc and its trading partners can no longer afford to pay. They must mitigate its impact by slashing time to compliance. And they cannot delay doing so any longer.
More in Global Trade Management