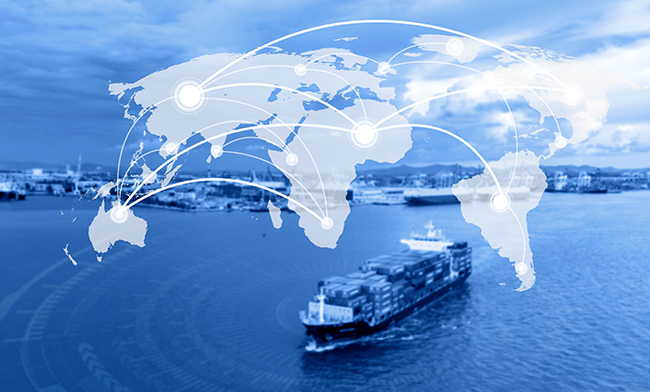 When driving by a busy seaport, I'm always awed at the hulking towers of shipping containers stacked eight to ten high in the yards surrounding the terminals. Every ocean container full of goods has a starting point well before products become freight. In fact, a product's journey begins before the materials come together to form it and well before an order is placed, assembled, shipped and cleared by customs. It starts when a brand owner decides where to source the goods—a multi-dimensional decision that includes everything from product quality, trade lanes, and duties and tariffs to logistics and trade compliance factors.
Sourcing concepts have remained relatively constant throughout history: Make high-quality goods at the lowest possible cost. Likewise, logistics operations run on critical factors that are fundamental to that side of the business: Ship goods in the most efficient, cost-effective manner.
It's no longer that simple.
Best Practices Revisited
Right now, the demands of the "perpetually connected" business environment and consumer are driving organizations of all sizes to think about how they must digitally transform their supply chain operations. Often dubbed the "Amazon Effect," the expectation is for an organization to deliver the highest quality product or service as fast as possible and at the lowest price with the ability to monitor progress all the way to the consumer's waiting arms. To manage this shift, supply chain executives are reworking traditional supply chain management best practices and operations, making way for digital supply chain management.
The benefits of change aren't realized overnight. However, it's been proven that when functional areas like sourcing and logistics are interconnected on a common platform, these four things happen:
Visibility is established at every stage of the product lifecycle—and when combined with a robust digital supply chain collaboration platform, lead times decrease by 20% to 40%.
Collaborating earlier in the product lifecycle reduces development and turnaround time, with a marked increase in fill rates averaging 10% to 15%.
Multimodal logistics coordination helps identify inefficiencies in shipment variability and reduces transportation costs by 5% to 20%.
When combined with up-to-date trade content, automated duty qualification minimizes duties and taxes by 8% to 100%—all while mitigating customs audits by 10% to 15%.
Only by removing age-old functional silos between teams within the supply chain—especially sourcing and logistics groups—will true digital supply chain transformation be attainable.
What is Digital Transformation in Supply Chain?
Establishing that big-picture view of your supply chain is critical, whether it's having all your current shipments on a map and knowing where they are, or getting an accurate picture of your upstream and downstream supply chain activities. Sourcing and logistics teams must share data to fine-tune their activities, seek out new opportunities such as a new trade lane or carrier and save money. However, digital supply chain transformation goes far beyond gaining the visibility to track a container. Digitization extends into correlating all the data that describes what's in the container—design, sourcing, manufacturer, classification, order, shipment, regulation, cost, and much more—and presenting that information in a single consolidated view. This kind of information enables true global supply chain visibility, but it does not end there.
Digitizing your global supply chains empowers your planning, sourcing and logistics teams to collaborate, automate and effectively leverage analytics.
Collaboration: Digital supply chains enable collaboration among multiple internal and external systems and people. This is one of the characteristics of what many refer to as a control tower. Collaboration creates opportunities to reduce or eliminate the "data silo effect," where information is housed in separate, siloed information systems—or worse, individual spreadsheets. A unified, shared view of the supply chain through a single portal—versus a web of forty-plus integration points—accelerates cross-department and cross-trading partner visibility and collaboration, making agility and responsiveness an integral part of the digital supply chain.
Automation: An end-to-end digital platform creates efficiency, eliminates manual re-keying errors, improves data accuracy and increases supply chain speed by automating many labor-intensive, manual processes and facilitating decision-making at multiple stages in the lifecycle. For example, side-by-side initial costing is automated, and alerts are automatically generated when purchase orders (POs) are in danger of delays or complications. Similarly, the task of identifying and qualifying products eligible for free trade programs is automated. Automation also determines the most appropriate shipping mode, carrier and schedule while taking into consideration time, speed, priority and other elements. As a general rule, digital supply chain workflows rely heavily on automated processes.
Data Analytics: Global supply chains generate enormous amounts of data. By creating a digital version of the end-to-end supply chain, including historical records, supplier performance records and total landed cost scenarios, today's analytics can now spot problem patterns, identify bottlenecks and pinpoint savings and cost-reduction opportunities. Analytics can also watch for imminent and future risks and recommend proactive solutions. Analytics enable real-time transactional reporting and performance evaluations for continuous improvement across the supply chain.
Holistic Approach
Companies that are still juggling massive spreadsheets, making phone calls and sending emails to try to get to the data they need are missing the boat. When you add the sourcing and logistics data gap to the equation, the situation becomes even more complicated. More effective collaboration within internal teams—and among brands, their suppliers and logistics providers—is critical to get products to market faster and respond quickly to consumer demand and economic shifts while keeping costs down.
When sourcing and logistics both have access to real-time data from credible sources accessed via a digital model of the supply chain, supply chain leaders can effectively deal with exceptions and spend their time working on more important things than searching through spreadsheets for information. A digital twin of the physical world makes it possible to manipulate, process and analyze the digital version with computer software. This unlocks tremendous value and creates a flexible and adaptable operating platform. Once in place, the digitized global supply chain requires fewer human resources and less labor due to the omission of numerous manual tasks. This in turn reduces the overall time and cost involved in running the supply chain. Another benefit is a more predictable and reliable supply chain that allows shippers to reduce inventory levels and safety stock—a cost-saving move that simply can't be overlooked in today's competitive global business environment.
To do it right, companies are taking a holistic, integrated approach. This wide-ranging approach to establishing a digital supply chain encompasses product development, sourcing optimization, foreign supplier management, product and factory risk, quality assurance, and the management of export, global transportation, duty, import and logistics processes.
With the recent acquisition of Amber Road, E2open has bridged the gap between two typically disparate teams: sourcing and logistics. The results is a more connected, intelligent supply chain that helps companies increase efficiency, reduces risk and enables supply chain agility. Try E2open's Supply Chain Application today! E2open is changing everything. Demand. Supply. Delivered.