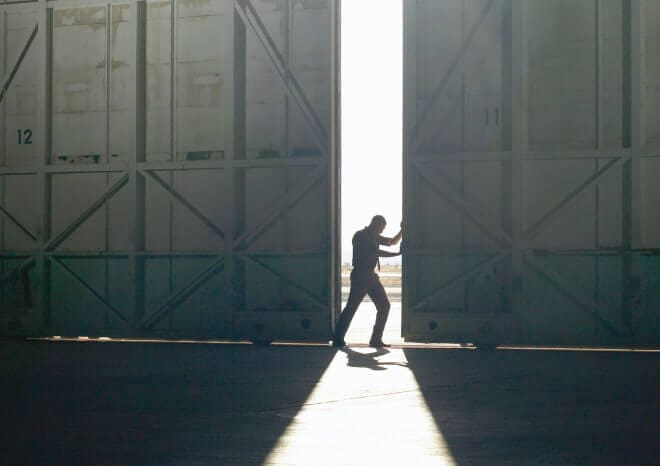 What's the mood of global logistics? That sounds like a funny question, I know. We don't typically think of supply chains as having a mood, but it might be appropriate after everything we've been through recently. As the months go by in 2023, we have witnessed a dramatic, atypical drop in global trade. We haven't even experienced the seasonality we typically see. Winter melds into spring; spring melds into summer. The mood is steady and colorless. There isn't any change. We're not seeing the shifts in trade volumes and shifts we typically see through seasonal demand and supply.  
In April 2023, Oxford Economics projected a 0.6% reduction in global trade this year, pointing out that many industries are struggling to overcome pandemic-era disruptions and shortages, consumer confidence levels are low, major economies are experiencing inflation, labor shortages led to higher shelf prices, and a shift from heavy reliance on Chinese manufacturing are all weighing heavily on this scenario. 
Back-to-school, back-to-college, Halloween, and the gift-giving holidays toward the end of the year are just around the corner. Maximizing sales during the peak (or holiday) season is absolutely critical to meeting annual revenue goals in the retail and consumer industry. The season starts with an appetizer in July and August in some regions for back-to-school supplies, and the main entrée is served from October to December. Now is the time for logistics leaders to check on every function in their supply chain to be sure they are ready for the peak season.  
In this blog series, learn more about the new preparation strategies for your company to sail through with success.  
For many supply chain leaders, planning for logistics peak season started six to twelve months ago, or more for some specialized companies. Now those orders are beginning to move. Logistics is the workhorse for shipping peak season orders from the origin port to the destination port, from the port to the distribution center, and from the distribution center to the store/consumer. Through this period of increased demand and potential capacity constraints, shippers need to deliver orders on time while maintaining exceptional customer service and, at the same time, optimizing transportation spend. Peak season happens every year. Some years are more intense, demand is very high, and capacity is minimal, but that wasn't the case in the past year. Logistics executives are predicting another muted peak season for 2023. But even with those predictions, shippers must be ready for the uptick in demand, even if it is less than in past years.  
Reliable and available capacity is key
Retailers are finding it hard to predict what consumers will buy and when. The extraordinary demand for some products that we experienced during the pandemic is over, and current consumer demand is closer to previous seasonal trends. Supply chain planners use domain knowledge and historical data to develop an optimal plan for what consumers want. But with the fluctuations in supply and demand we have seen in the past few years, in 2023, supply chains need to use the long-term demand plan as a guide but also work to actively detect shifts in and disruptions to supply early and make course corrections to maintain customer service levels. There will undoubtedly be highly sought-after items and the usual demand increases that follow the typical peak season patterns. Still, we likely won't see dramatic capacity crunches and big rate hikes.   
Ocean capacity for goods imported from overseas is easy to find, but it's still best to book in advance to ensure the peak season orders arrive in time to get to the shelves when shoppers are looking for them. For shippers moving goods domestically, things are relatively smooth and easy. Road capacity is plentiful. But as the volume rises and shippers are looking for capacity, they should work with their trusted carrier partners. Shippers that have contracted rates with their preferred carriers should meet their contract obligations before venturing out to the spot market. In cases where there is an issue with reduced capacity, and they have to utilize the spot market, shippers want to ensure they have access to a robust carrier network to find reliable capacity at reasonable rates.   
How low will rates go?
The cost to ship an ocean container from China to America's west coast ports peaked at $20,600 in September of 2021. Since then, rates have plummeted and are approaching pre-pandemic levels. Between May 2022 and May 2023, rates have dropped by about 80% from around $10,000 per 40-foot container to about $2,000 per container. Road freight rates are also down from historic highs during the pandemic. As the 2023 peak season approaches, shippers are enjoying low rates for both contract and spot rates. The increased demand accompanying peak season can drive rates up, but this year given that shippers are still dealing with a surplus of inventory, rates may see mild increases. Still, they may be less than what was experienced in a typical pre-pandemic peak season. 
With that said, shippers still need a strategy for approaching the next few months. Customers have high expectations for delivery. Shippers must meet the highest service levels to ensure customers get their orders when they want them. Given the current state of rates (both contract and spot), shippers are still enjoying reasonable rates, unlike the rates seen during the height of the pandemic when capacity was scarce. Carriers are offering low rates to stay competitive. Ultimately, it is all about relationships; maintaining a good relationship with your preferred carriers will have the best outcome in the long run. This is a marathon, not a sprint. Planning for all of the cycles and knowing that inevitably the market will turn again, it is best to prepare for the long term instead of chasing bargains now.
Navigating peak season 2023 and beyond
As we have all learned, uncertainty is the only certainty in today's supply chain. Inventories remain high in crucial importing markets like the US, so companies are cautiously approaching the 2023 peak season.  
Until inventories come to a level where there is more of a need to import regularly, rates will remain low. There is still a great deal of volatility in the market, and it isn't easy to agree on rates more than a few months in advance. 
Success during the peak season (really in any season) relies on consistent, short-term execution excellence. Without the right technology, executing a logistics plan and adapting to the next disruption that will occur is difficult. Technology can automate much of the transportation process, plan and route shipments to optimize costs, and provide excellent customer service. When exceptions occur, having the right logistics technology can help mitigate the impact and keep goods flowing on time and in full.  
No one knows how the next six months will unfold for this peak season. However, with consistent, short-term execution discipline supported by advanced technology, logistics planners can navigate the turbulence to optimize transportation spend, mitigate disruptions and meet customer expectations.  
 To learn more about how to maximize supply chain agility during peak season, read: https://www.e2open.com/blog/how-to-maximize-supply-chain-agility-during-peak-season/.  
 Do you have questions or wondering how to start? Talk to one of our experts!