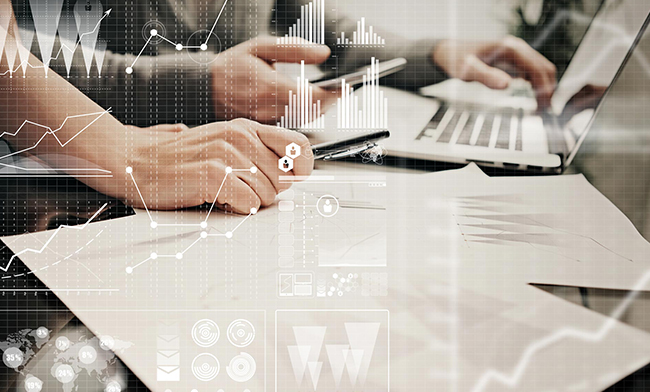 Companies need widely recognized standards to work effectively with partners to meet changing customer demands. GS1 standards provide a common language for companies and trading partners that enables them to identify, capture and share supply chain data. To better serve customers and their partners, E2open has established the E2open Global Data Pool, a certified data pool solution built to comply with GS1 standards.
Through the E2open Global Data Pool, customers and partners receive access to the GS1 Global Data Synchronization Network (GDSN®). GDSN is a network of interoperable data pools and a global registry that manages trading partner relations. GS1 standards ensure that data exchanges between trading partners are accurate, consistent and effective.
What is GS1?
GS1 is a non-profit organization that develops global standards that improve the visibility and efficiency of supply chains operating across physical and digital channels. GS1 brings users from various industries together to develop and update industry-wide standards that define how data is identified, stored, shared and used. These standards ensure data integrity and access using easy-to-understand data formats.
The following are examples of common GS1 standards:
GS1 Barcode and Electronic Product Code (EPC): GS1 barcodes and EPCs are placed on products and scanned electronically to provide a wide array of attributes about each individual item.
Global Trade Identification Number (GTIN): This

is an identifier for trade items, developed by GS1. Such identifiers are used to look up product information in a database (often by entering the number through a barcode scanner pointed at an actual product), belonging to a retailer, manufacturer, collector, researcher, or any other entity. The uniqueness and universality of the identifier is useful in establishing which product in one database corresponds to which product in another database, especially across organizational boundaries. (This d

efinition is from GS1.org, used with permission.)

Global Location Identification Number (GLN): This is part of the GS1 systems of standards. It is a simple tool used to identify a location uniquely when required. The GS1 Identification Key is used to identify physical locations or legal entities. A location identified with GLN could be a physical location such as a warehouse or a legal entity such as a company or customer, or a function that takes place within a legal entity. (This d

efinition is from GS1.org, used with permission.)
How Does GDSN Work?
GDSN is a secure interconnected network of interoperable data pools and the GS1 Global Registry®. Companies around the globe can use GDSN to exchange synchronized supply chain data over the internet with their trading partners using standardized global product classifications.
GDSN ensures that all participants in a network comply with global GS1 standards and that the data exchanged through GDSN is accurate. GDSN participants consist of suppliers, manufacturers, companies, trading partners that serve as data sources or recipients, and data pools that send, receive and validate data exchanged through the network. The GS1 Global Registry manages and locates the data sources and runs a matching process to ensure that data between trading partners is in sync.
What Is the E2open Global Data Pool?
To exchange data with GDSN, a data pool must adhere to GS1 standards. In addition, trading partners require a GDSN-certified data pool for the registration and subscription of product or location data in the GS1 Global Registry. E2open successfully completed the interoperability test for GS1 GDSN compliance that is conducted by the Drummond Group. Having received GS1 certification for GDSN, E2open launched its data pool in May 2019 and became the 6th U.S.-based data pool and the 43rd data pool in the world.
The E2open Global Data Pool synchronization engine harmonizes the data between the GS1 Global Registry and other data pools. The engine validates, stores and manages a repository of item data, location information and item subscription lists. The E2open Global Data Pool leverages the Drummond Certified™ Applicability Statement 2 (AS2) server portion of the E2open business network, E2net, for secure point-to-point exchange of GS1-standard Extensible Markup Language (XML) messages between the GS1 Global Registry and other data pools.
What Advantages Does This Give You as a Customer?
Existing and future E2open customers seeking to comply with GS1 standards for product classification, product information, traceability and participation in GDSN can benefit from leveraging the data pool's services:
Network of networks: Customers and partners on E2net can register Global Location Numbers (GLNs), item identifiers and product attributes and subscribe to global item data and related attributes as well. Trading partners can be onboarded quickly to subscribe to or publish item data with GDSN.
Real-time validation of the transaction stream: Data flowing through E2net can be enriched and validated in real time using GS1 standards.
Data synchronization: Product data is synchronized with a global trading community.
Single location for item data: Customers and partners may store and manage item data compliant with GS1 standards in one location.
Traceability standards: GS1 standards can be used by customers and partners for logistics visibility and product tracking and tracing.
What Industries Benefit from GDSN?
Companies in virtually any industry can benefit from participating in GDSN through the E2open Global Data Pool. The following are some examples:
Retail:

GS1 standards are broadly adopted across grocery, food service, apparel and consumer packaged goods. Consumer demand changes rapidly, and consumers also require 24/7 access to accurate product information. To help meet these demands, retailers can use the E2open Global Data Pool to track products at every step in the supply chain. Operating with a data pool and GDSN enables the streamlined automation of data delivery and consumption for companies, retailers and consumers.
Healthcare and pharmaceutical: A wide spectrum of universally identifiable attribute definitions for medical devices and medications are made possible by GS1 standards. These range from dosage and expiration to lot number and data transportation method. GDSN interoperable data pools keep this data in sync with those who need it, even when a manufacturer changes the information. GS1 standards make tracking and contractual compliance easy while maintaining patient safety.
Transportation and logistics: GS1 standards uniquely identify location and product information, establishing a framework for data that is captured and shared as a product moves through different locations in a supply chain. This provides visibility and tracking capabilities so logistics services providers and transportation management companies can easily locate products at rest and in transit.
Working with GS1 standards helps ensure product authenticity, improves traceability in the supply chain, reduces data errors and increases accuracy. As the expanding use of GS1 standards penetrates various industries, the E2open Global Data Pool is ready to enable companies to identify and classify product data and register, share and receive location and item information through GDSN. E2open's intelligent applications and network connectivity, combined with the E2open Global Data Pool, provide value-added services to customers across the supply chain ecosystem.