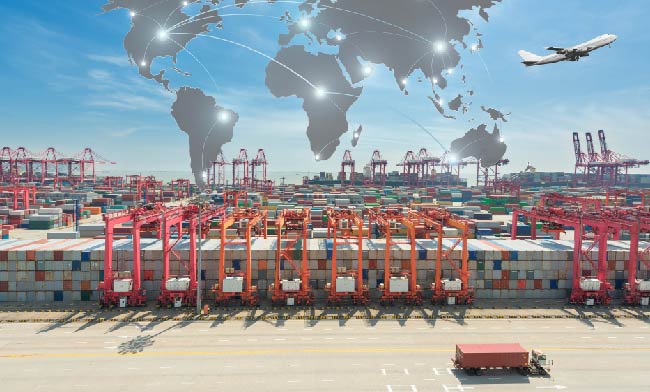 For companies moving goods, managing every stage of the shipment – over the ocean and the last mile – can be extremely complicated. Even some large companies struggle with distribution challenges and high transportation costs. Supply chain operations, in general, have become complex. The current business environment brings volatile demand accompanied by a continuously shifting mix of products with relatively short lifespans, tangled by the ever-changing supply partnerships attempting to address them. Trade tensions continue to exist between countries, and cross-border regulations are increasing with the new concerns. Logistics decision making has become challenging and pressure-filled.
Regardless of the backdrop, shippers rely on essential Transportation Management Systems (TMSs) to get their products to the customer. To equip importers and exporters, solution providers are continuously advancing capabilities to support new and old supply chain challenges of varying complexity and scope. However, not every TMS provider can support highly complex, global scenarios with a complete set of functional applications and an organic logistics partner network for every mode of transport.
To help supply chain and transportation leaders make critical decisions, Gartner publishes multiple reports, including its annual Magic Quadrant for Transportation Management Systems. The report assesses TMS vendors' capabilities and provides recommendations to technology buyers so they can find a provider/solution that matches the needs of their business—today and in the future.
The emphasis of the report and the quadrant is to evaluate multiple product capabilities, including these functional areas:
General competencies like inbound, intercompany and outbound freight management; globalization for international deployment; technology architecture, adaptability, flexibility, usability and implementation options
Multi-mode carrier rate and contract management
Operational planning and forecasting
Logistics execution
Carrier invoice audit and settlement
Carrier and supply chain analytics
Additional areas, like convergence with other supply chain functions, solutions and trading party networks
Gartner also rates solutions on a tiered complexity scale—from Level 1 through Level 5—to distinguish solutions according to their ability to handle scenarios of varying difficulty. In the 2020 Magic Quadrant for Transportation Management Systems¹ report, Gartner explains, "At Level 1 and Level 2, there is no real planning, whereas from Level 3 to Level 5, the robustness and complexity of the planning requirements increase from level to level. At Level 5, the complexity shifts to the international scope of operations and deals with the added needs of running a global freight operation." The report goes on to point out that TMS solutions "share many characteristics, but there are distinct differences across the strata of TMS." In other words, not all TMSs are created equal when supply chains need to double down to overcome obstacles.
Like every other aspect of a supply chain, international transportation and logistics introduces a level of complexity that can become daunting if the right processes and technologies are not leveraged. Other than the sheer contest of logistics orchestration, new cross-border rules and regulations, demands for cheaper, faster distribution, lack of shipping capacity and the need for accurate and timely visibility, logistics management are more crucial than ever.
A TMS provider that scores high in all these areas on the Gartner TMS Magic Quadrant (MQ)—and can scale with the customers' needs—is essential in this environment. Supply chains need to be more resilient to handle these levels of difficulty. Gartner recommends that companies shopping for technology first identify their most challenging issues and opt for a solution that can handle them at the most sophisticated level. TMS providers that are capable of reaching Gartner's complexity Level 5 go beyond domestic and regional logistics, shifting to global transportation operations, which presents the most complicated challenges. Typically, these are multi-mode and multi-leg shipments crossing multiple borders, adding special needs for customs documentation, numerous languages/currencies and other global functions.
Speed of deployment and ease-of-use are features that also weigh heavily when selecting critical supply chain software. To show a speedy return on investment, IT involvement and minimize any downtime, software implementations need to be fast. Gartner's TMS report also singles out those providers that do this best. E2open's TMS has been implemented in weeks, not months or years, like many other solutions of equal caliber. "E2open offers fast implementations in the TMS market, with an average implementation timeline of four to eight weeks. This also results in one of the lowest total cost of ownership (TCO) solutions of the vendors in this Magic Quadrant."² Once implemented, users must find the software intuitive and simple to use, or adoption rates will drop, making the project less effective.
From a global supply chain perspective, logistics managers require a technology solution that comes with the four essential components:
A network to create global ecosystems to connect to the underlying transactional systems in the physical supply chain. These networks are not limited to only logistics parties, but also channel management, supply chain and global trade ecosystems.
An integrated data model to harmonize, cleanse and enrich data using artificial intelligence and automation to make it decision-grade and provide a single source of truth for all parties.
A full set of applications with the breadth and depth to meet current needs and expand to deliver cross-functional, cross-enterprise supply chain planning and execution. Plus, the ability to power third-party or in-house applications as part of an open platform.
Unified workflows and analytics on a single pane of glass to harmonize all the underlying apps or data sources required to manage the most complex scenarios.
Gartner's 2020 TMS MQ only ranked a few vendors as leaders with all these capabilities, and E2open is proud to be one of them. We invite you to read the full report, compliments of E2open. Click here for the full report.
¹ ² Magic Quadrant for Transportation Management Systems, Gartner, Published: 27 March 2019, Bart De Muynck, Brock Johns, Oscar Sanchez Duran
More in Transportation and Logistics