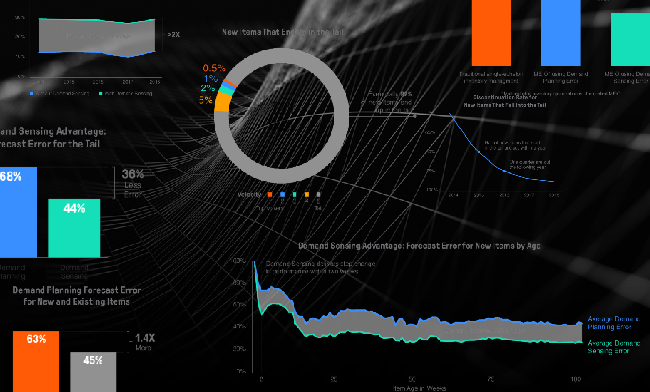 Supply chains are complex systems that span multiple enterprises and functional groups, and predicting their behavior is extremely hard because of the myriad inter-relationships that exist between demand and supply. Organizations understand why it's important not to produce more or fewer units than they can sell. Produce more, and you end up with costly excess inventory, not to mention the opportunity cost of using valuable manufacturing capacity for a product that doesn't ultimately sell. However, if you produce less than you can sell, you lose sales opportunities. You often end up sacrificing margins or service levels by re-tasking your manufacturing engines and expediting shipments, so improving forecast accuracy matters significantly.
No company can—or likely ever will—achieve a perfect balance of demand and supply. However, companies that forecast better than their peers are equipped to make informed business decisions. These best-in-class companies continuously strive to improve their processes and understand the art of the possible. They are eager for reliable and accurate benchmark reports that contain information on key metrics such as forecast error, bias, forecast value-added, inventory safety stock, etc. Benchmark reports provide a means for companies to analyze the performance of their peers and learn from best practices and lessons learned. Planners want to know the steps they can take to improve supply chain performance, and they also want to know what constitutes best-in-class performance. They also want to see the business impact of supply chain metrics and how they translate into financial performance improvements.
This month, e2open released its ninth annual Forecasting and Inventory Benchmark Study (FBS), and I am proud to have been a co-author of this report. The inspiration of the report came from the VP of S&OP of one of our customers who clearly understood the mantra, "you can't manage what you can't measure." However, the challenge for him was the lack of accurate benchmark reports. For nearly ten years, the study has been a go-to resource for organizations and analysts as they strive for supply chain excellence. This year's study encompasses over $250 billion in annual sales from global manufacturers across a variety of industries.
Though there are many benchmark reports in the market, all except the Forecast and Inventory study have a common methodological weakness. I know this fact well since I have been an analyst and authored several benchmark reports in the past. Traditional survey-based benchmark reports rely on anecdotes and self-reported data. The trouble with this approach is that survey respondents rarely have access to all the data—or the right data—to yield an accurate apples-to-apples comparison across organizations and industries. The inevitable bias and errors in the input data undermine the accuracy of these studies and call their usefulness into question. Survey respondents often also misunderstand survey questions and do not answer them accurately, thus impacting data quality. Worse yet, even if forecast accuracy was reported without bias or quality issues, the different aggregation levels and horizons utilized for reporting the forecast accuracy numbers make the data nearly useless.
The reliability and accuracy of the data is what makes e2open's study unique: the inputs for the study are actual operational information from our customers' legacy demand planning applications, and e2open's Demand Sensing and Multi-Echelon Inventory Optimization (MEIO) applications. Reported data are in the same format with the same aggregation as well as definitions. These are no self-reports, best guesses or most recent recollections.
With so much at stake in organizational benchmarking, ongoing efficiency campaigns and the ever-present drive for sales growth, the results of the study are more pressing and more timely than ever. The public version of the report is made available for free to contribute to the industry. Customers who participate in the study get detailed private reports that show their ranking in all the metrics provided in the public version of the report. These reports provide insights into demand sensing and inventory optimization performance that is invaluable to our customers and help them to make tangible improvements. Since the data is available at the item, location and daily time horizons, the granularity of benchmarking is unparalleled. When customers realize that their peers have gained consistent year-over-year forecast accuracy improvements of 50% through demand planning, they can either be proud that they have exceeded the average or look into why they are below average. There are dozens of other metrics that are available for benchmarking, each one of them contributing to business performance improvements such as inventory reduction or S&OP process improvements.
When properly managed, supply chains can be one of the organization's most significant competitive advantages. Through the detailed analysis of demand, supply and inventory performance, we provide a benchmark study that can help any company get more value from their supply chains. It gives data-driven insights and ways to compare your performance to best-in-class organizations. Forecast accuracy matters and you finally have a way to measure it and manage your performance—download e2open's 2019 Forecasting and Inventory Benchmark Study.