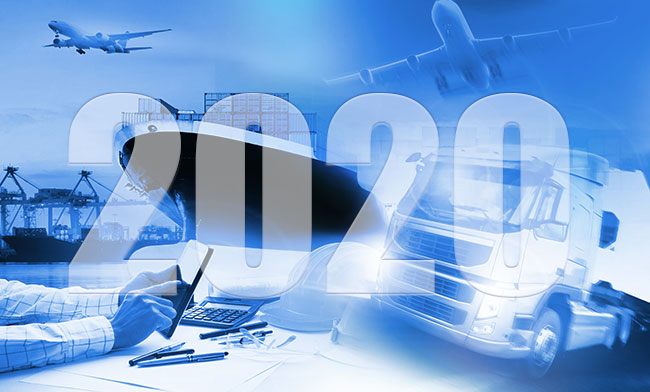 Predicting the future is a trying task in today's global trade environment. You can't talk about global shipping unless you take into account the trade policy shifts that continue to impact consumers in various ways. In my 2019 predictions, I talked about the "trade walls" almost every major economy was building. At the time of this writing, we can fairly say the walls are up and causing trouble for global shippers, but it seems like more protectionist policies are still to come.
The ramifications for shippers and manufacturers have triggered the need to transform supply chains — both physically and financially — by finding alternate production sources and new suppliers, if possible. These shifts mean transportation planning becomes more vital to minimize higher costs and risks – for carriers and shippers alike.
Technology advancements and innovation are being embraced as companies realize the need for automation capabilities to streamline processes. Last year, I reported that the supply chain industry is slow to adopt and adapt. The 2018 Trade Trends Survey from Amber Road (acquired by E2open in 2019) showed that nearly 50 percent of respondents are accelerating their technology buying with hopes of streamlining their cross-border business. According to analyst reports, there is a hugely anticipated upswing in supply chain tech adoption over the next two to five years. Independent supply chain functions are growing between 8–14 percent, and organizations are taking step-changes in their technology maturity levels.
This is the state of our world and where we are continuing to do business. As we move into 2020, there are three significant areas of concern for anyone playing a part in global trade. They include:
Unpredictable shipment volumes, present capacity challenges and higher costs
Innovative technology works its way into the mainstream logistics supply chain
The digital twin enables powerful visibility, collaboration and analytics
Managing global supply chains in an unpredictable trade environment is not straightforward, if it ever has been. But thanks to new digital supply chain tools, the job is getting easier – and smarter. Business leaders should begin by understanding the challenges and solutions.
#1 – Vacillating shipment volumes
By November 2019, all signs indicated that seaborne imports into the U.S. ports handling the most trans-Pacific shipments dropped by 14 percent since the previous year — a precipitous decline. But shipment volumes have been vacillating since the China tariffs that were slapped on a large swath of consumer goods starting in 2018. U.S. importers, especially large retailers, rushed goods into the country to avoid rounds of threatened future tariffs. Many logistics providers sense many of their retail customers now appear to be slowing their orders as they are waiting to sell through existing inventory.
The Global Port Tracker report, published by the National Retail Federation and Hackett Associates LLC, shows month-by-month imports into the U.S. fell 5.2 percent in October of 2019 alone. However, November's forecast reflects an 8.3 percent increase over 2018 numbers.
"Industry planning is in a state of confusion with the on-again, off-again tariff increases and the widening of trade disputes," Ben Hackett, principal at Hackett Associates, said in a statement.
Against that backdrop, transportation costs across all modes and reduced carrier capacity are forcing shippers to take a proactive position with carriers. The lack of forward-looking visibility and planning is a serious risk for logistics. Without visibility into customer demand, shippers are in a constant state of reaction.  While promotions are planned months in advance, no one tells transportation, "We are running a promotion soon and need extra trucks."  Shippers find themselves in a continuous scramble to find carrier capacity to manage promotional or seasonal surges, often bearing additional costs of moving empty vehicles or turning to more expensive, secondary carriers. Likewise, securing additional trucks is only helpful if the facilities and crew are available to load them. Warehouse managers face the same cycle of constantly juggling limited dock bays and scrambling to ensure the right staff are on hand to move pallets and load shipments.
Implementing a transportation forecasting solution to create accurate freight forecasts can help you overcome this challenge. Transportation forecasting takes the techniques that were developed in other planning tools, such as demand planning and demand sensing, into the realm of transportation to increase visibility and extend forecast horizons. These tools enable shippers to then collaborate with contract carriers across all modes, lanes and class to reserve capacity (and negotiate better terms). They can also correctly plan internal resource needs to manage inbound shipments to their warehouses and facilities. Logistics teams gain visibility into their capacity needs so they can shift from operating in a reactive mode to proactive, reducing costs, improving service levels and deepening relationships with carriers.
#2 – Adoption of leading-edge technology is increasing
Supply chain operations have remained relatively the same for years and are often still antiquated in comparison to other industries. However, bringing goods to market has become more complex.  A new technology infrastructure is available and required. Manufacturing has evolved from the early production plants that made products from the raw materials to finished goods in that single location to today's multiple tiers of OEM suppliers and final assembly sites that increase the complexity. This model calls for better collaboration and orchestration across every phase of the supply chain lifecycle.
These new factors, along with the consumer-driven environment, are redefining demand planning, production management, and transportation optimization to minimize cost and risk.  Supply chains of the future may look almost nothing like those of the past, and enterprises must transform to maintain a competitive edge. Changing the way business is done in one area of the supply chain affects all of the others.
Technology is leveraged to improve efficiencies and costs of transportation and logistics. Major ocean carriers are differentiating by delivering more value to their customers – ecosystem connectivity, sourcing and procurement management, end-to-end visibility and control and even trade compliance tools. But carriers of all types are also adopting technology solutions to digitally connect with shippers, NVOCCs, other carriers, brokers and customs. Software to manage fleets, track containers and equipment moves, optimize routing and predict real-time ETAs are just some of the new technologies available. Artificial Intelligence (AI) and Machine Learning (ML) enabled algorithms process and utilize information from various sources — including container events, schedules, historical data and real-time, automatic identification system (AIS) data — to provide dynamic, real-time arrival updates and predictive ETAs. Once identified, ETA delays are then weighted based on the overall inventory and revenue impact for the brand owner. Equipped with this valuable information, companies can make smarter decisions when prioritizing late and early shipment resolutions.
#3 – The digital supply chain twin is the favored child
When supply chain data and parties are sharing digitized data, a digital model that represents a copy of the real world is created.  Gartner defines a digital twin as "a software design pattern that represents a physical object of understanding the asset's state, responds to changes, improving business operations and adding value."  Think of it as a digital doppelganger of the real world.  Unlike the physical world, it is possible to manipulate, process and analyze the digital version with computer software.  This ability to simulate real-world supply chain dynamics unlocks tremendous value through improved collaboration, automation and analytics, as well as creating a flexible and adaptable operating platform. The type of data available through a digital supply chain twin isn't just fun to look at – it shines a light into the dark corners of the supply chain. The digital twin creates a control tower that provides a means to create efficiency and unlock real value in a variety of ways.
A digital control tower enables collaboration with internal systems and external ecosystems, which creates opportunities for workforce efficiency and improves supply chain speed and quality. Information is sent to and from the right parties and systems as fast as the internet allows, eliminating the need to re-key the data, which results in acceleration, reduced work and the eradication of costly errors.
A digital control tower performs automation, which can reduce manual work and third-party costs.  Whether by determining a product's eligibility for a trade agreement or creating a digital version of the customs entry, automation eliminates costs. By creating a digital version of the real supply chain, including the historical record, companies can then use data analytics and can then identify new savings opportunities. Hard dollar savings in areas such as sourcing, duty/tax and transportation are found, while identification of process bottlenecks results in continuous improvement.
In their Leading Technology Trends and Initiatives From the 2019 Supply Chain Top 25 survey and report, Gartner analysts Brock Johns and Christian Tietze promote the benefits of digital twin technology in supply chains. "Organizations would use a digital supply chain twin for all levels of supply chain decision-making, from strategic through to execution." The report goes on to say that digital data can be utilized by machine learning and artificial intelligence tools to power the supply chain further than previously realized. The data, the network, the ecosystems and other technology converge and deliver higher value. As your supply chain makes the digital transformation, be sure to take your digital twin along.
Are you ready for 2020?
Global trade continues to be marked by uncertainty for the foreseeable future. Widely-dispersed supply chains, varying labor rates, uncertain transportation costs and last-mile delivery challenges combine to create new complexities for today's companies. Add shifting trade policies, consumer consumption patterns and global tensions to the mix, and we see a perfect storm of uncertainty and risk that companies doing business in the global trade arena need to overcome with technology.
1 Gartner, Leading Technology Trends and Initiatives From the 2019 Supply Chain Top 25, 19 September 2019, Brock Johns and Christian Tietze.
More in Global Trade & Logistics