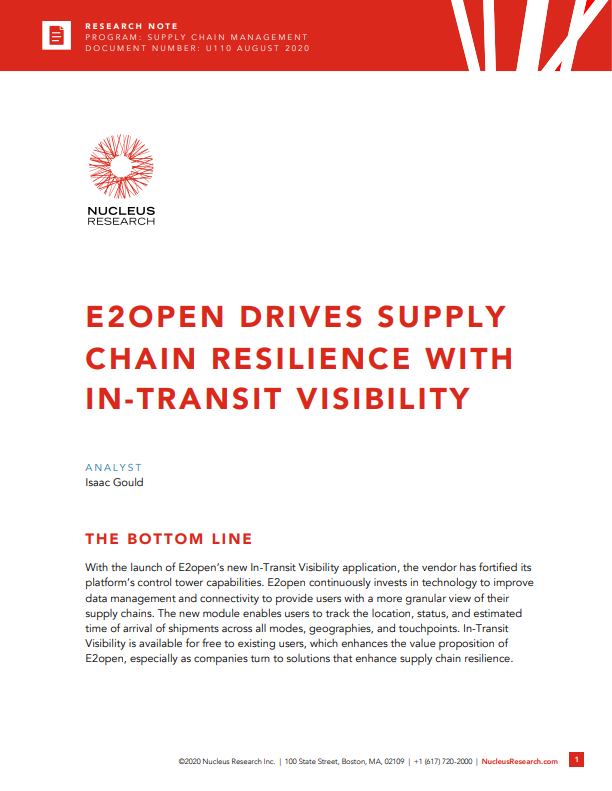 Privacy mode may affect your ability to download content, so we recommend standard browser settings.
Companies are making essential changes to build more resilient supply chains, knowing that the next big crisis is likely to throw a wrench in the gears.
Now more than ever, an essential investment is

in-transit visibility

– the ability to leverage technology to gain greater insight into disruptive, late or off-schedule shipments and how deviations from the plan impact the end-to-end processes. Better yet, E2open now provides in-transit visibility

free of charge

to all clients.
Following the launch of E2open's In-Transit Visibility application this summer, Research Analyst Isaac Gould with Nucleus Research published a quick-read that reveals the highlights you need to know.
You will learn about the:
Features and benefits of the In-Transit Visibility application


Value clients receive when supply chains are under stress

Key reasons why In-Transit Visibility is a foundational control tower capability

Cross-functional, cross-enterprise model E2open has established to democratize visibility by offering it at no charge to all clients
Want to learn more? Ask us how E2open's In-Transit Visibility application can help improve real-time visibility and the ability to easily locate your goods in transit across all modes and regions.